This will probably be the most interesting thing you'll read all day today: we just captured a rather curious test mule at the Ford Research and Development Center in Dearborn. The funny-looking pickup truck is wearing a heavily-modified body of the current-generation Chevrolet Colorado, but it's testing at the Ford Providing Grounds, making us wonder what the heck is going on.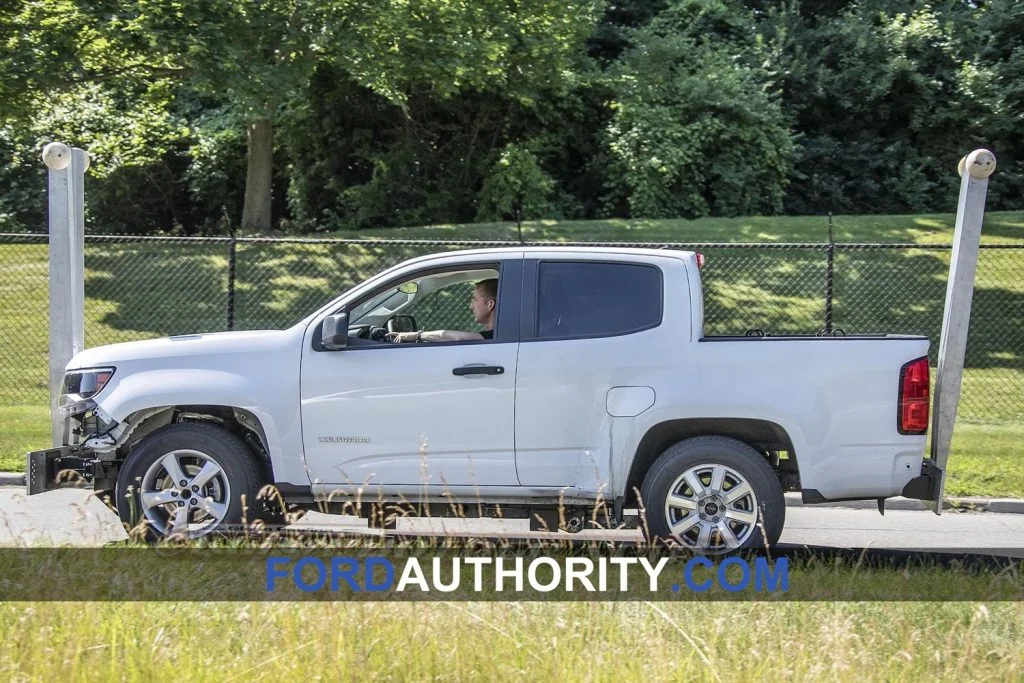 While this mule was driving on the roads outside Ford's proving grounds, it was accompanied by a right-hand-drive Ford Everest – a Ford SUV not sold in North America, but one that's based on the same Ford T6 platform as the current Ford Ranger. Notably, the Ford Ranger is what Ford is thought to be deriving the new Ford Bronco from. Keep that in the back of your head as we continue this report.
As for the mule itself, it has a much shorter wheelbase compared to the Colorado that's currently in production. In addition, the cab and bed on the Colorado are usually two pieces, but in this instance, the bed has been shortened and reportedly riveted to the cab of the truck. In other words, this is no typical Colorado. In fact, we don't think it's a Chevrolet or GM product whatsoever.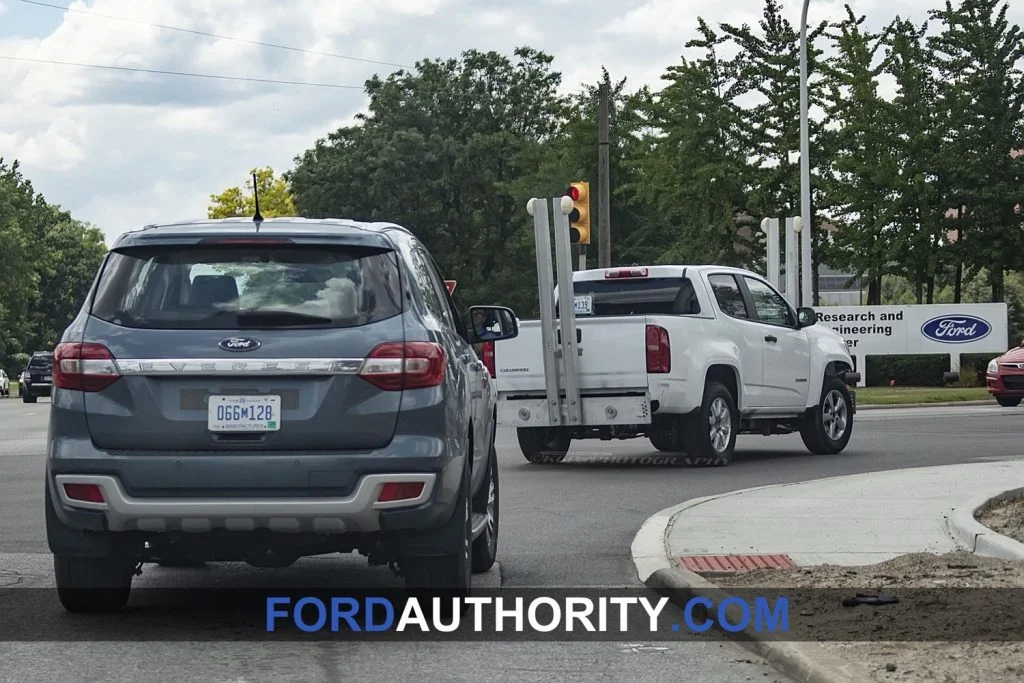 The reason we think it unlikely that this is a GM product borrowing time at the Ford proving grounds are the manufacturer license plates. Ford buys these plates from the state in bulk and then hands them out as needed for its testing vehicles. The plates used on the Colorado mule and its Everest support vehicle are only 11 digits apart – 066m139 and 066m128, respectively. This indicates they are from the same sequence of plates, and were therefore purchased by Ford. There's no reason for a GM/Chevrolet prototype to wear a Ford manufacturer license plate.
If that doesn't convince you, then consider this: GM is highly unlikely to have a right-hand-drive, foreign market only Ford Everest SUV in the States that it would use as a support vehicle for testing at a Ford facility.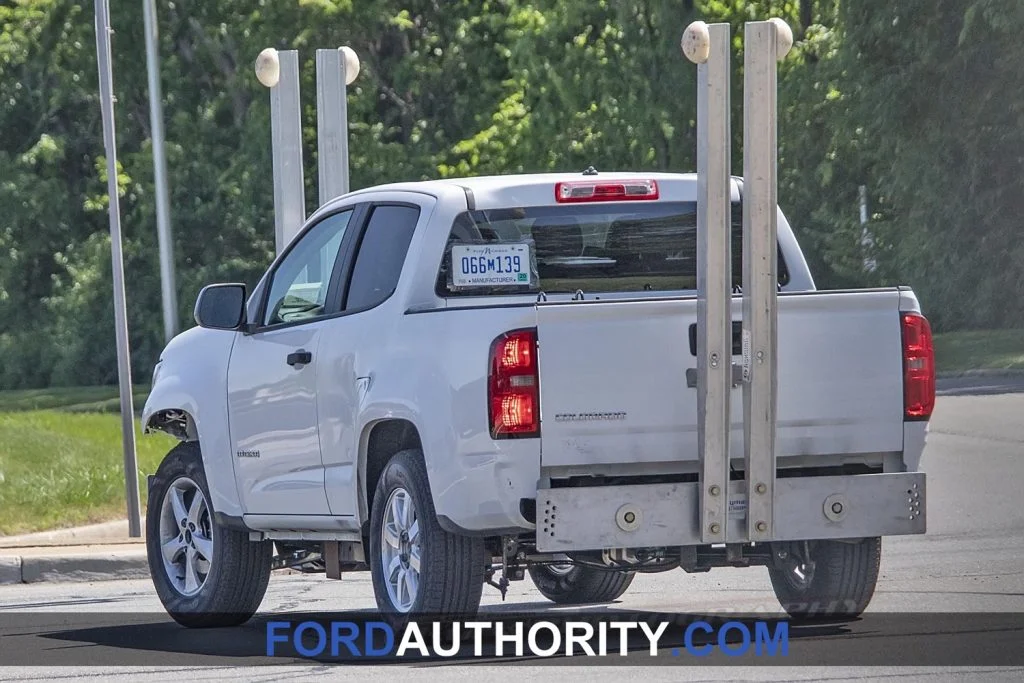 Now, some have surmised that this strange Colorado-looking thing is actually a Ford Courier test mule. The Ford Courier, for those who haven't yet heard, is an upcoming Ford pickup of compact dimensions rolling on a unibody architecture to slot underneath the Ranger.
Having seen the Ford Courier test mule that we caught last year, we can surely say that this ain't it. Instead, what we see here is a ladder frame peaking out from underneath the front and sides of the test mule. We can't rule out that the frame is part of the vertical test rig meant for rollover testing, but it sure as heck looks like a normal truck frame to us, indicating this is a body-on-frame vehicle.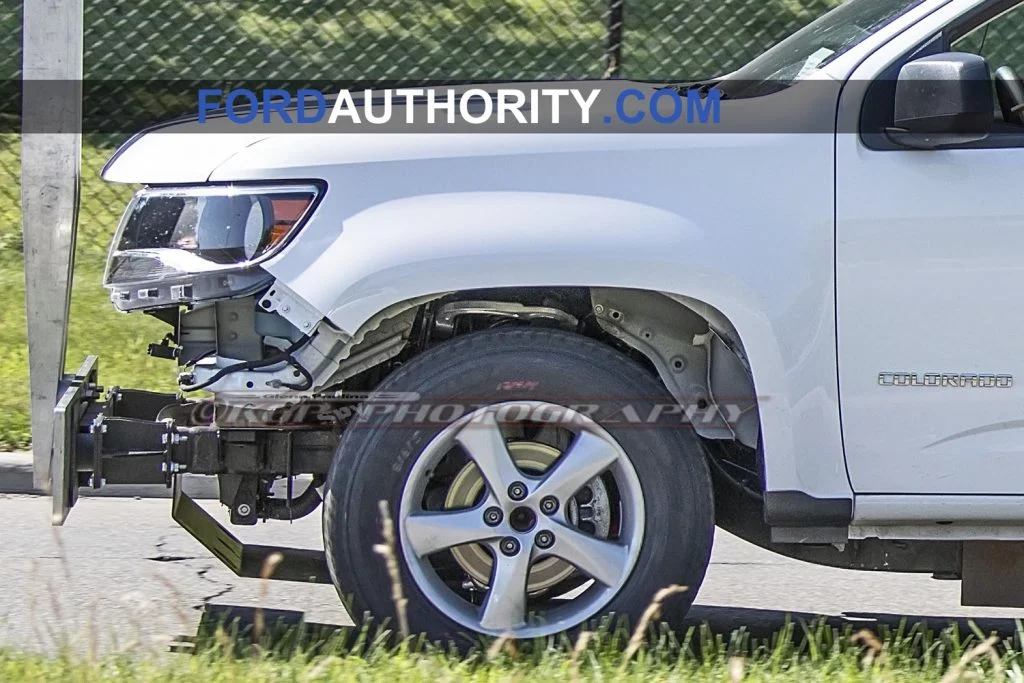 Keeping all that in mind, we think that what we're looking at here is a very well-camouflaged Ford Bronco test mule. Hence, Ford using a body from a competitor's vehicle to hide a test mule for one of its future vehicles is the equivalent of next-level camo. It's possible that using the body of a Chevrolet is likely to divert attention away from Ford and its Bronco initiative in response to all that negative feedback the original Bronco mule received.
We mentioned the vertical poles attached to the front and rear. They are outriggers that get dropped down for stability testing purposes. Our spy told us that this mule went on to perform aggressive stability testing with the outriggers engaged (descended) at Ford's proving grounds, as can be seen in our zoomed-in photos.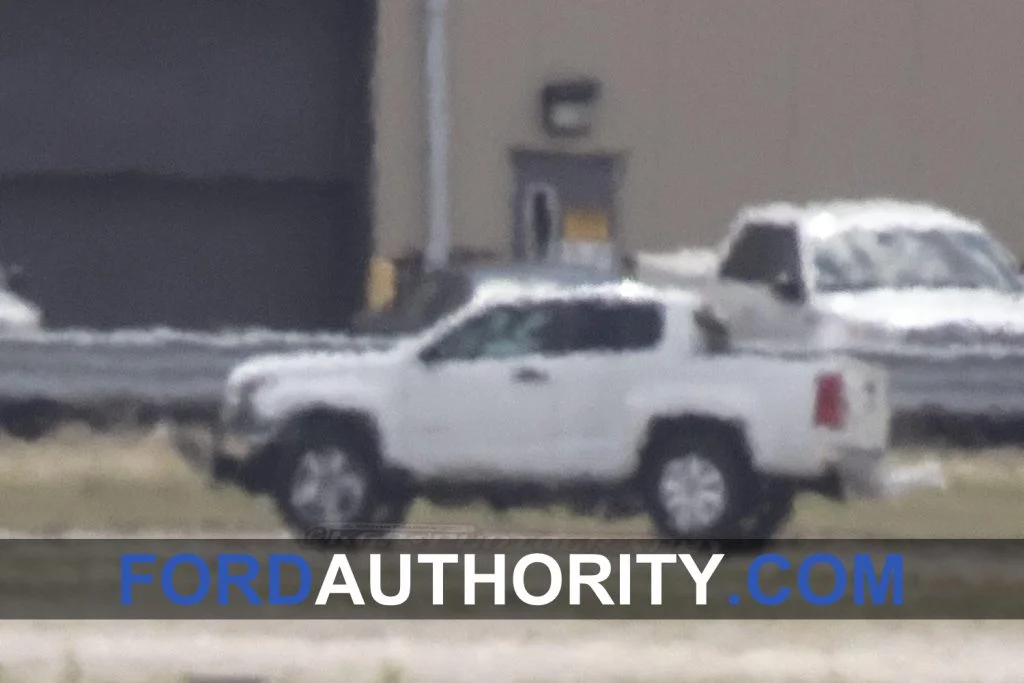 What do you think – are we looking at a Ford Courier unibody mule or a body-on-frame Bronco test mule? Talk to us in the comments.
Subscribe to Ford Authority for more Ford Bronco news, Ford Courier news and around-the-clock Ford news coverage.