The current generation of the Ford F-150 Raptor is an incredible vehicle with loads of power and performance. The current-gen Raptor isn't perfect. Many lament the fact that while powerful, the high-output EcoBoost V6 under the hood of the F-150 Raptor lacks the V8 rumble that truck buyers want. The current-gen Raptor is only made in a four-door version and what many Raptor fans want is a V8-powered 2-door short bed Raptor, which Ford is unlikely ever to give us.
Ether 5 Star Tuning out of Florence, SC. This shop took a Ford F-150 2-door, short bed truck and made it look as close to the Raptor on the outside as possible and then strapped a supercharger to the 5.0-liter V8 under the hood to create the truck that many F-150 Raptor fans really want. 5 Star Tuning doesn't call the truck a Raptor, else Ford's legal team would be knocking, but we know an F-150 Raptor when we see it.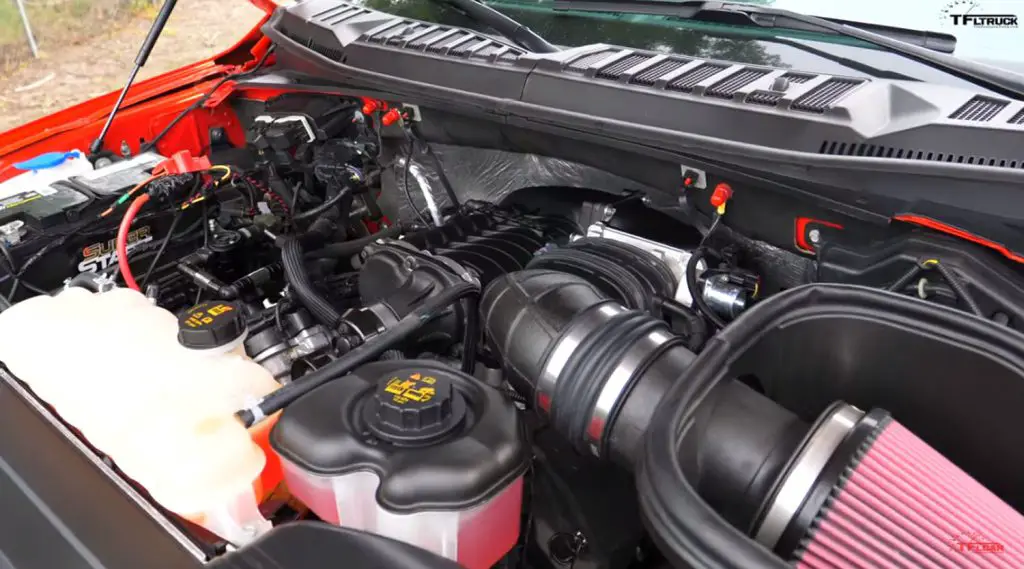 The official name is the Road Rash FX5, and the base vehicle is an F-150 two-door, short bed 4×4 XL trim with a 5.0-liter V8. The big upgrade for performance is the addition of a Roush Performance supercharger kit that makes right at 720 horsepower at the crank on the V8. The transmission was also adjusted to give the truck different modes, including a sport off-road and regular street use tune.
This conversion isn't cheap, the supercharger kit alone adds $7,700 to the price of the base 4×4 F-150. The hood on the truck is a Raptor hood that has been made narrower to fit the standard width F-150 fenders. The winch on the front of the truck is a custom unit and the truck rolls on a 6-inch custom suspension lift with traction bars and adjustable shocks.
The side steps are customized, and the tires underneath the F-150 are 37-inch units meant for off-road use. Inside the truck are a pair of bucket seats and a center console with switches for the winch and LED lights. The steering wheel is a Raptor unit. It looks darn good, and there is no exact price given for the entire build. Check out this video comparing a custom Raptor with a Roush F-150 if you need more in your performance truck fix.
Subscribe to Ford Authority for more F-150 news and around-the-clock Ford news coverage.
Source: 5 Star Tuning