The 2020 Corvette is getting the lion's share of publicity these days, and for good reason. The move to a new mid-engine platform after seven generations mounting the motor ahead of the cabin is a major diversion, intended to create a sports car that offers sharper handling and a more engaging driving experience. Which of course leads us to wonder – what would happen if the Blue Oval brand built a modern mid-engine Ford Mustang, perhaps in the spirit of the old Ford Mustang Mach 2 concept from the late '60s? As it turns out, YouTuber TheSketchMonkey is ahead of us on that one, recently posting a video that provides a concept rendering of what such a creation may look like.
The video starts with a sketch of the current front-engine Ford Mustang, with cab-back proportions and a long hood line up front. The sketch looks good, and provides a good baseline for creating a new mid-engine Ford Mustang. Up next, the artist puts together a rough concept of what a mid-engine Mustang might look like, using cues from the standard Stang to help him piece it all together.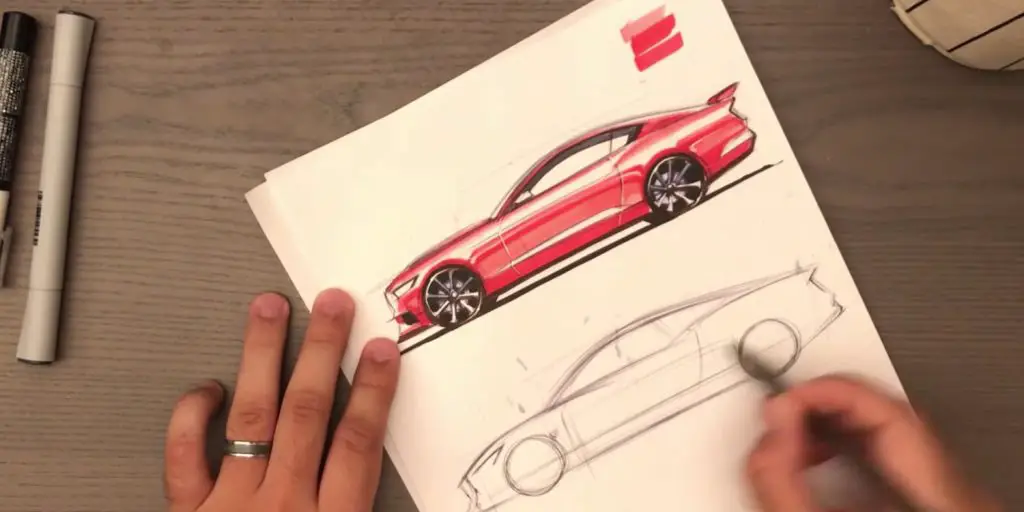 After putting his thoughts down on paper, the artist then jumps onto his computer for a little digital rendering. He does a great job explaining the thought process that goes into creating his concept, pointing out the various body features that need changing and how they affect the aesthetic overall, not to mention some of the mechanical and engineering restrictions as well.
While rendering the mid-engine Ford Mustang, the artist also provides some interesting background on the development of the sixth-generation Mustang.
The final product will definitely divide enthusiasts, but we think it's a solid attempt all the same. With more-even proportions front to back, a reshaped greenhouse, shortened nose, and host of other changes, this thing looks unique, but still comes with recognizable Mustang-esque styling elements, especially around the rear end and front headlights.
Are you a fan? Would you support the creation of a mid-engine Ford Mustang? Would it have the right stuff to take on the Corvette C8? Let those opinions fly in the comments section and let us know. In the meantime, subscribe to Ford Authority for more Ford Mustang news and around-the-clock Ford news coverage.