The drag strip is a great place to challenge all comers and see who's ride is the fastest. Some cars that turn up at the drag strip don't look fast leading the unsuspecting to get beat down the old 1320. Case in point is the Tesla Model S P100D seen wrapped in matte silver in the video.
The Tesla was at a drag strip recently when it challenged both a late model Mustang GT and an Audi S4 down the strip. For those unfamiliar with the Tesla Model S P100D with its Ludicrous mode, the car is incredibly fast. Much of its drag strip process comes thanks to all the electric torque being available from the dig.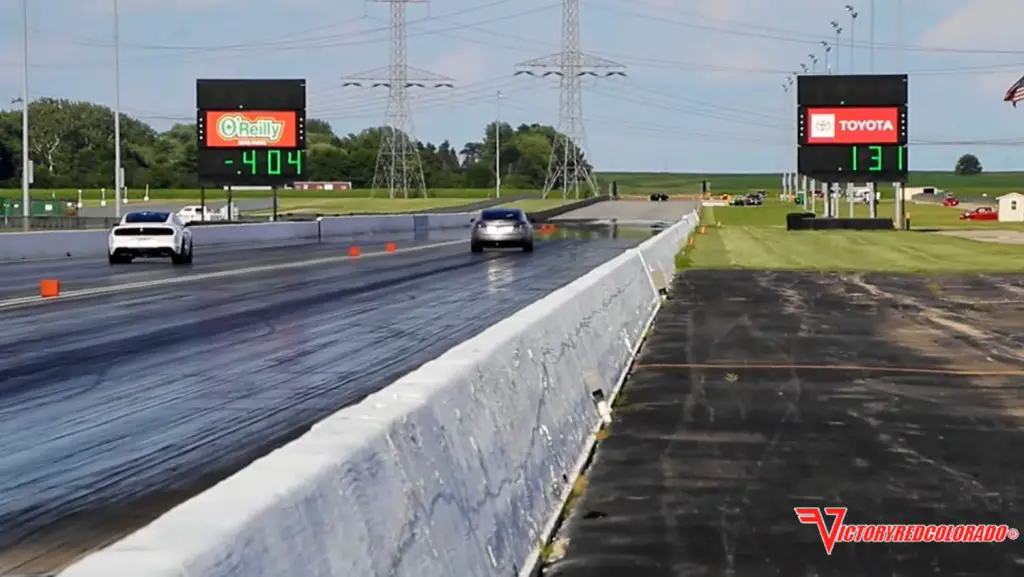 In the first race, the Model S ripped down the quarter-mile in 11.11 seconds at 119.65 mph. The Mustang GT seems to have left a bit early and put in a 12.89-second run at 112.42 mph. That first race was reportedly done without Ludicrous mode enabled.
For the next run against the Audi S4, Ludicrous mode was on, and the Tesla Model S P100D went incredibly fast. The four-door electric family sedan did the quarter-mile in 10.91 seconds at 117.9 mph. The Audi S4 put in a 1/4 mile time of 12.77 seconds at 112.92 mph.
The Audi's time means it slightly bested the Mustang GT despite being handily trounced by the Tesla. The crazy part about the Tesla Model S later-model cars is that the Performance version has been clocked ripping off 10.6-second quarter-mile passes at 127.55 mph. A Ford Mustang GT driver could certainly crank off those times with some mods and a good driver. It's very impressive how well Tesla cars do at the drag strip. An Aussie speed shop is aiming to get a stock-motored 2018 Mustang GT down the strip in the 10-second range with a few mild mods.
Subscribe to Ford Authority for more Mustang news and around-the-clock Ford news coverage.
Source: Teslarati