A man named John Arrendale has what has to be one of the best-looking and most powerful early Ford trucks out there. The ride is a 1950 Ford F-1 truck, and it was built by Mason's Hot Rods in South Carolina. The project started with Arrendale buying several Ford F-1 trucks from the same man, who had 15 of them sitting around in various stages of disrepair.
The goal was to create a high-performance race truck, and with a 1,000 horsepower V8 originally out of a Shelby GT500, high-performance was achieved. The build used a TCI Engineering chassis with several areas of the frame reinforced to handle the 1,000 horsepower goal. The truck was built for the drag strip, not for taking corners.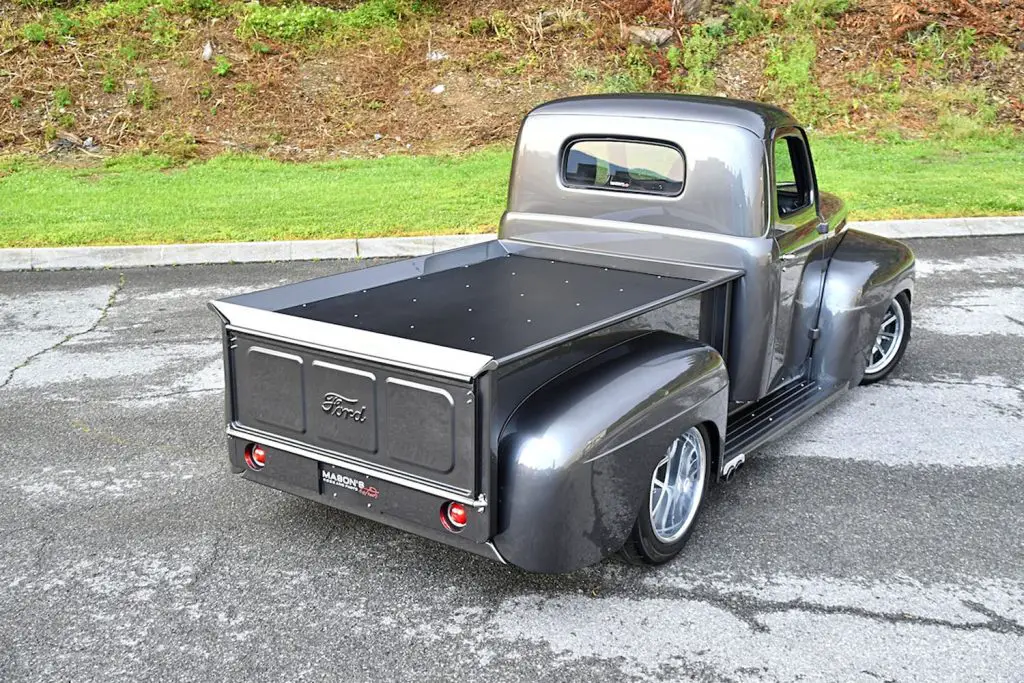 It has a triangulated four-bar rear, tubular a-arms in the front, RideTech coilovers, and custom motor mounts. The truck features Shelby power steering and a Mustang II rack with a currie 9-inch rear that uses 3.25 gears and 35-spline axles. Stopping a Ford F-1 truck with 1,000 horsepower is essential, so the ride also received Wilwood disk brakes.
The 1,000 horsepower heart of the Ford F-1 truck is a modified 5.4-liter Shelby V8 that uses a Cobra Jet crank, Crower rods, MMR pistons, stock cams, and custom long-tube headers. The blower on top of that motor is a massive Kenne Bell 3.6 unit that can make 28 psi of boost. The blower is liquid-cooled with a KB BIGUN intercooler, and double pass heat exchanger from C&R racing. Lots of other touches were added with body holes fille, and much more.
All the power from the Shelby V8 goes to the road via a 6-speed TREMEC T56 Magnum transmission. The truck has a roll cage inside and to make it comfortable to tool around in, it also has air conditioning, full interior, power windows, and power steering. Check out this later model square 1959 Ford F-100 truck.
Subscribe to Ford Authority for more Ford F-100 news and around-the-clock Ford news coverage.
Source: MotorTrend