The guys over at 5 Star Tuning have a history of taking Ford SUVs that are meant for picking up the kids and groceries and turning them into impressively powerful machines with nothing but a tune. This is the crew that took a stock 2019 Ford Expedition and made 464 horsepower with it.
5 Star Tuning is back, and this time the gang has turned their hands to the new 2020 Ford Explorer ST with its 3.0-liter EcoBoost V6. From the factory, the EcoBoost V6 is rated at 400 horsepower and 415 pound-feet of torque. Those power and torque numbers are with 93 octane fuel.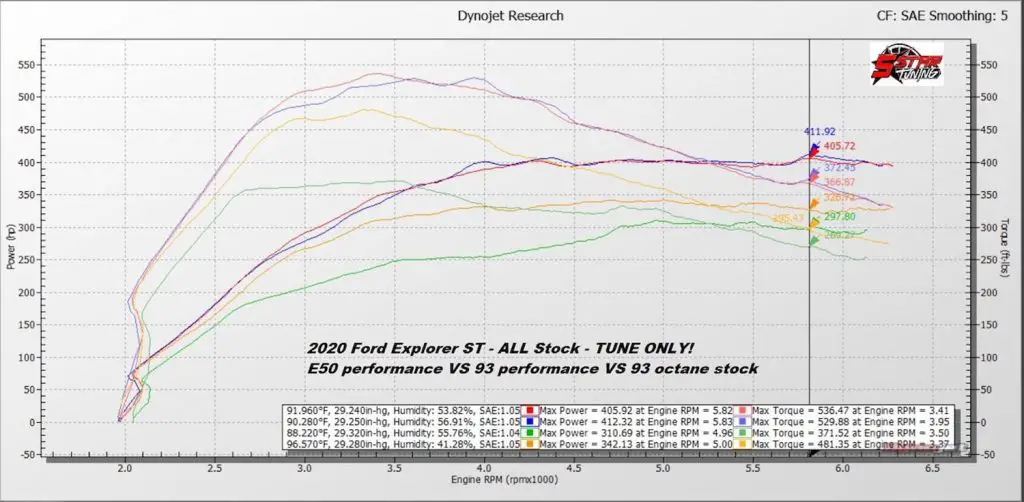 After the turning was done, the 2020 Ford Explorer ST made 513 horsepower at the crank, which is about 412 horsepower and 529pound-feet at the wheels. The power and torque numbers are from a stock engine with no modifications at all. The tunes were on E85 fuel so those lacking that fuel locally won't see the same power and torque numbers.
It doesn't appear that the company took the tuned 2020 Ford Explorer ST out of the drag strip to see if all the extra power meant better times. We are sure the turned ST is faster at the strip, but we would like to see before and after tuning runs. It's also worth noting that tuning your car could result in damage to the vehicle and voided warranties if that sort of thing bothers you. We are curious what sort of gains 5 Star Tuning can make when relying only on 93 octane or 91 octane fuel that is readily available around the country.
Subscribe to Ford Authority for more Explorer ST news and around-the-clock Ford news coverage.
Source: TFLC