The gang over at Hennessey Performance will take a stock, and already powerful 2017 to 2020 Ford F-150 Raptor and turn it into something much more than it was meant to be from the factory. Hennessey's Velociraptor conversion takes the Ford Raptor and turns it into a beast with 600 horsepower and 622 pound-feet of torque. Anyone who has wondered what the build process was like for a Raptor to transform into a Velociraptor 600, check out this timelapse video.
The video goes from a box stock, brand new Raptor, and transforms into the Velociraptor Stage 2 in 2 minutes and 40 seconds. There is a lot more to the Velociraptor 600 than a hopped-up engine alone.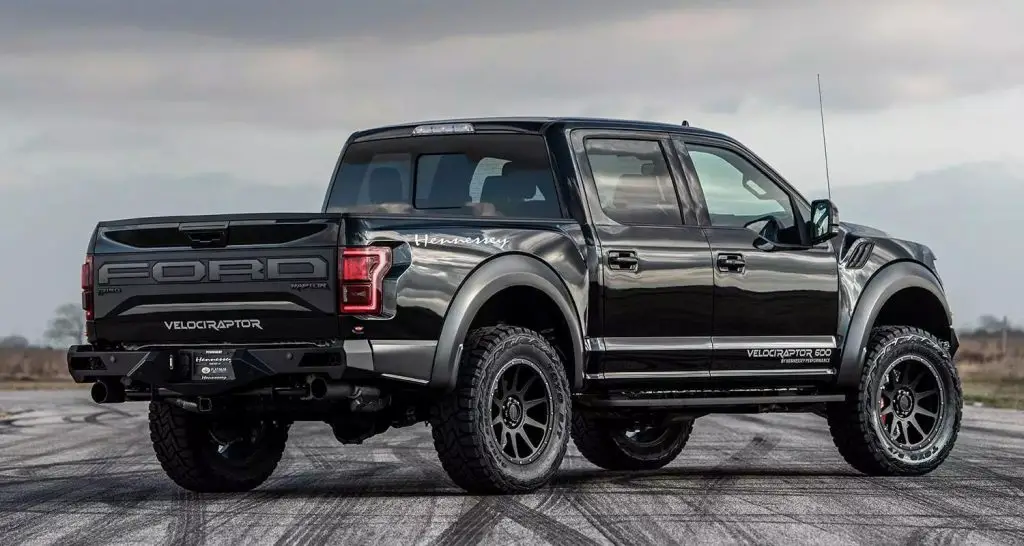 The full list of power mods includes:
High-flow air induction system
Turbo wastegate modification
Air to air front mounted intercooler upgrade
Intercooler piping upgrade
Stainless steel exhaust system (catback)
Engine management computer software upgrade
All necessary gaskets and fluids
Professional installation
Chassis dyno calibration & testing
Road testing up to 200 miles
Hennessey & VelociRaptor 600 Twin Turbo exterior emblems
Limited production interior & under hood plaques
3 year / 36,000 mile warranty
The Hennessey Velociraptor built in this video also has the custom front and rear bumpers, custom wheels, off-road tires, LED lighting, suspension lift, and a custom exhaust. When all the work is done, the Hennessey Velociraptor can run to 60 mph in 4.2 seconds and run the quarter-mile in 12.9-seconds at 110 mph. The Hennessey Velociraptor is one of the coolest Ford trucks you can get your hands on today. The video is definitely worth a watch. If the Velociraptor 600 isn't enough, Hennessey will also put a supercharged V8 under the hood.
Subscribe to Ford Authority for more F-150 news and around-the-clock Ford news coverage.
Source: YouTube