The Ford Bronco is one of the most valuable classic Ford vehicles out there with restored examples bringing premium money. This 1977 Ford Bronco is an early model that has been completely restored and looks fantastic. There are two types of restorations when it comes to classic Broncos. Some tend to go all original, and others tend to elan towards modified examples that are customized but are clean and in like-new condition.
This example is a 1977 model and is coated in a charcoal metallic paint with chrome trim, black fender flares, and a black soft top. The top appears to be brand new and certainly has no mars or rips. The plastic windows of the soft top appear tinted to keep the heat out, and the fender flares cover the new tires and wheels that are much larger than stock.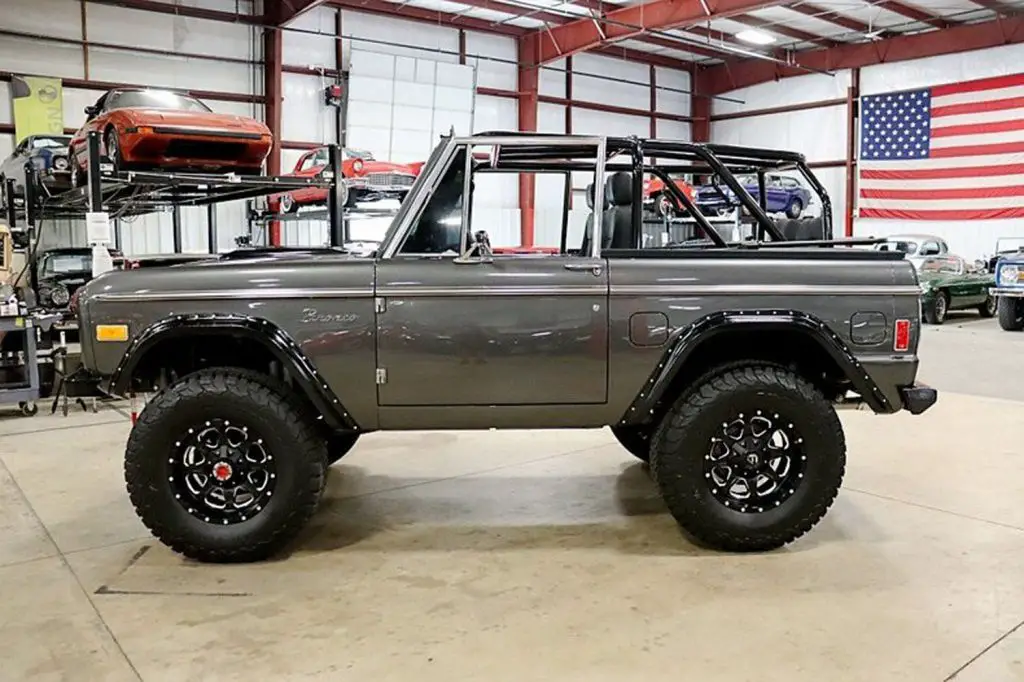 The builder of the Bronco put in a full roll cage, so it is safe and ready to go off-roading. Seatbelts weren't a big concern with first-gen Broncos, but the builder put lap belts in for the rear seat. Other nice features meant to make the 1977 Ford Bronco usable as a driver include a Pioneer audio system, B&M Shifter, and three-spoke steering wheel with carbon fiber accents.
This 1977 Bronco is probably never going to see off-road use; it's way too nice for hitting most trails. It could if the buyer was inclined, it has functional 4×4 system. Power comes from a 347 cubic-inch stroker V8 that makes 410 horsepower and has a Holley electronic fuel injection system with under 3,000 miles on it. The engine compartment where the V8 lives is dressed up nicely. The seller is asking $62,900 for the 1977 Ford Bronco.
Subscribe to Ford Authority for more Bronco news and around-the-clock Ford news coverage.
Source: GR Auto Gallery