We've talked a few times about the folks over at 5-Star Tuning. These are the guys who put hands on the 2020 Ford Explorer ST and coaxed over 400 horsepower from it at the wheels with nothing but a tune. If you looked at their tune only results and wondered what they could do with some mods along with their tune, check this out.
5 Star Tuning has taken a 2018 Ford F-150 STX crew cab that has the 2.7-liter EcoBoost V6 underhood making 325 horsepower and 400 pound-feet of torque stock and modded it for loads more horsepower. The first step of their power project was to tune the 2018 Ford F-150 with an E30 fuel blend tune and see what the truck could do with stock turbos.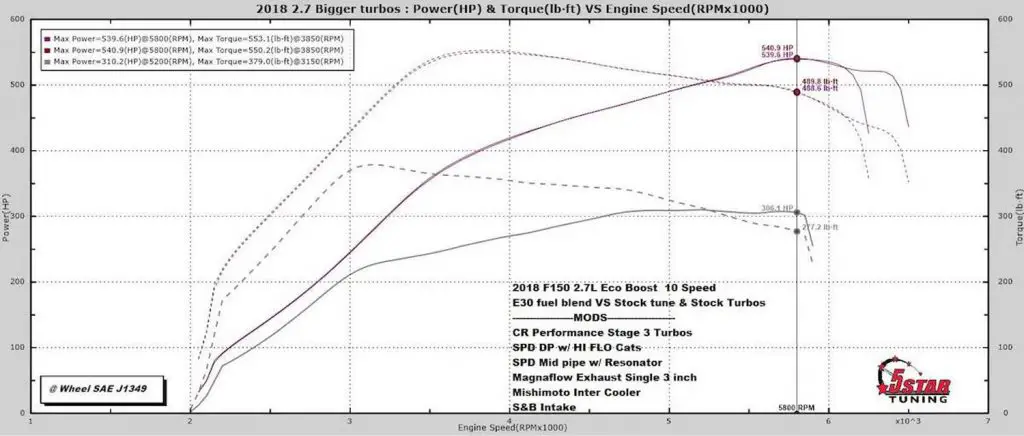 The result of tuning with stock turbos was 310 horsepower and 379 pound-feet of torque. The truck was then modified with larger turbos and other goodies to see what the truck could make. The mods included CR Performance Stage 3 turbos. The exhaust system was a Magnaflow 3-inch diameter single pipe exhaust SPD mid-pipe with resonator, Hi-FLO catalytic converters, and an EPD downpipe. The 2018 Ford F-150 also has a Mishimoto intercooler and S&B performance air intake.
The tune was for an E30 blend that has 30 percent ethanol and 70 percent gas. The results of the tuning and mods was 540 horsepower and 550 pound-feet of torque. We rather hope to see the guys take the truck down to the drag strip and show us what all that new power results in as far as quarter-mile times. We've seen a 5.0-liter supercharged Ford F-150 beat up on all sorts of vehicles at the track we wonder if this EcoBoost could do the same.
Subscribe to Ford Authority for more F-150 news and around-the-clock Ford news coverage.
Source: 5 Star Tuning