When it comes to brute force acceleration, the Ford Mustang GT and Chevrolet Camaro SS are two of the best in the business. These machines are the product of generations of drag racers looking to hit the 1320 at maximum attack, and it shows in the way they boogie right out of the box. Even the brits are in on it these days, as evidenced by this five-minute, 14-second video from Fifth Gear.
The video shows three runs between the Ford Mustang GT and Chevrolet Camaro SS. Both cars look to be from the 2018 model years. As we can see, the Mustang is right-hand drive, which speaks to the global perspective Ford has with regard to the current sixth-generation Mustang S550. Meanwhile, the Camaro SS is left-hand drive, which is an indication of the limited mindset of the GM camp.
Unfortunately, the Mustang loses every single one of the races.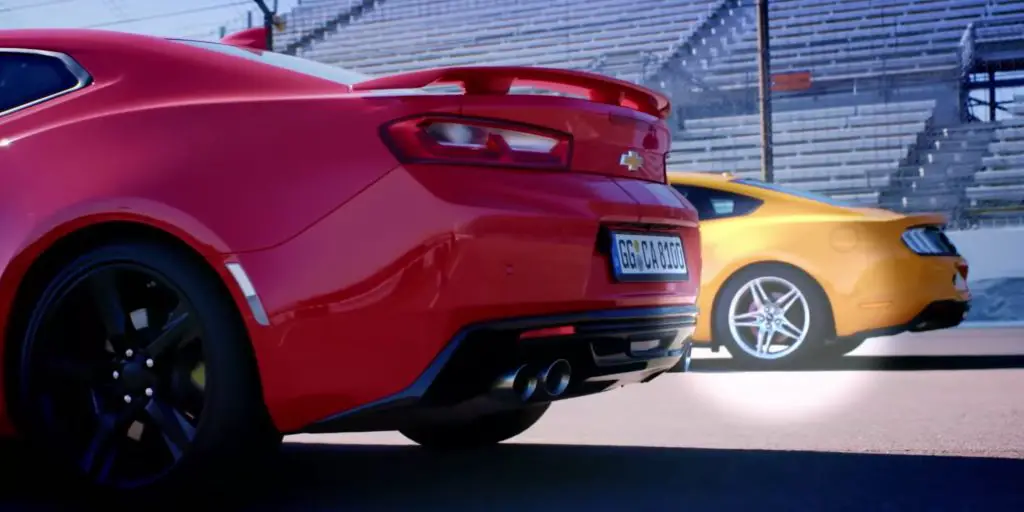 Of course, there are a few things worth pointing out here. First, the driver behind the wheel of the Mustang GT, Tiff Needell, consistently launches it at a high rpm, causing some serious wheel spin off the line. Although he's using the launch control feature, he's setting it at about 5,000 rpm, which would be better suited to stickier tires and a drag strip, not stock rubber and a road course straightaway.
While it's easy to jump all over the guy and say he doesn't know how to drive, that would be wrong. Needell is a former F1 pilot and has seen multiple stints in the 24 Hours of Le Mans, so he definitely knows how to get every tenth out of a car. However, when it comes to drag racing a Mustang GT, well… let's just say that's a different sort of skill set.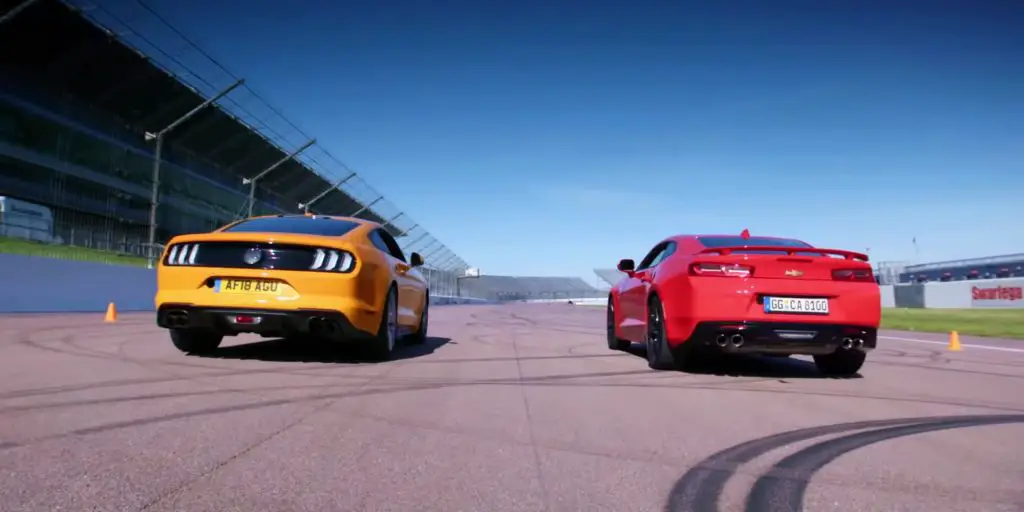 There's one more piece of the puzzle here – power. In the trip across the pond to the U.K., the Ford Mustang GT is detuned to 444 horsepower and 390 pound-feet of torque, a serious deficit compared to the U.S.-spec 460 horsepower at 7,000 rpm and 420 pound-feet of torque at 4,600 rpm.
Meanwhile, the Camaro SS is still laying down the full-fat 455 horsepower at 6,000 rpm and 455 pound-feet of torque at 4,400 rpm. That said, while Ford will continue to sell the Mustang GT overseas, the Camaro SS is getting pulled from the market following tightening emissions regulations enacted late last month.
So, even though it lost this battle, it looks like the Mustang GT still won the war.
Subscribe to Ford Authority for more Ford Mustang news and around-the-clock Ford news coverage.