The gang at Throttle House got their hands on a Mustang GT Performance Pack 1 car with a 10-speed automatic transmission and a new Toyota Supra Mark V. The guys immediately headed out to their test track amidst the wind generators and set about seeing how fast the cars were. On paper, the Ford Mustang GT was the leader with more power and torque than the Toyota Supra was rated for, but dyno tests have shown that the Supra is underrated.
The Supra also weighs less than the Mustang with a curb weight of 3,397 pounds for the Supra and about 3,700 pounds for the Mustang GT. The first event up for the cars was an old fashioned drag race. The Supra takes the Mustang off the line and for a good way down the track it's in the lead, but the race is very close. After the midpoint, all the power the 5.0-liter V8 engine makes was too much for the Supra to overcome and the Mustang GT took the lead and won the race.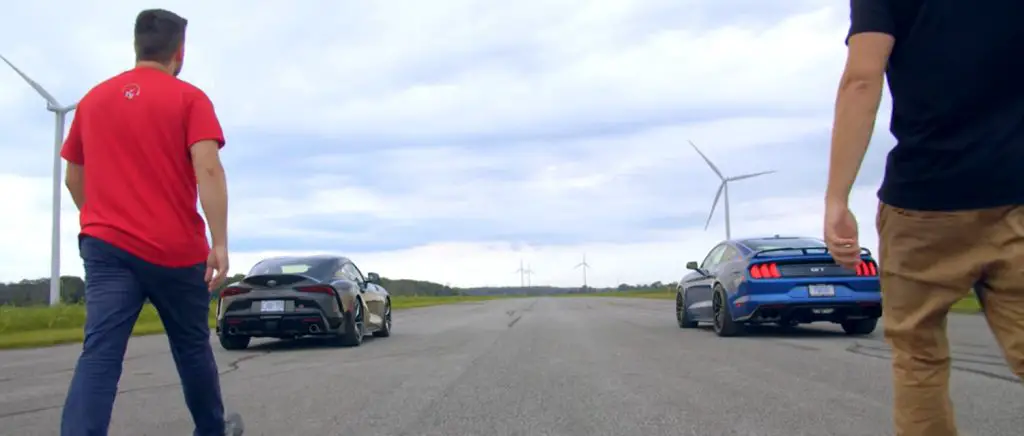 We don't know if the guys ran multiple drag races, the Mustang GT driver admits that the Supra launched better than him. We'd like to see the result of multiple races. We did see the Supra and the BMW Z4 both beat the standard Mustang GT with an automatic in a drag race with another publication.
The track laps took place next, and for the track, there were multiple laps run. The lap times between the two cars were very close with the same driver on the same day. The Mustang GT Performance Pack 1 lapped the test track in 1:15.18, and the Toyota Supra lapped in 1:15.06. It sounds like a drivers race between the two cars on that track. Interestingly, the guys did lap a Mustang GT Performance Pack 2 and the stickier tires and manual transmission that car had was good for a lap of 1:12.77 seconds.
Subscribe to Ford Authority for more Mustang news and around-the-clock Ford news coverage.