The Ford Mustang GT, the Toyota Supra, and the BMW Z4 are all in the same price realm leading to some cross-shopping of the cars for some buyers. In South Africa, the gang at Car Magazine SA decided to pit the three rides against each other in a drag race to see which of them was the fastest.
The BMW Z4 M40i Steptronic has a 3.0-liter turbo inline six-cylinder engine that makes 250 kW and 500 Nm of torque, which is about 335 horsepower. The Toyota GR Supra and the Z4 are mechanical twins using the same engine under the hood with the same power ratings. Some dyno sessions have hinted that Toyota is underrating its engine, which may be true considering the results of the drag race.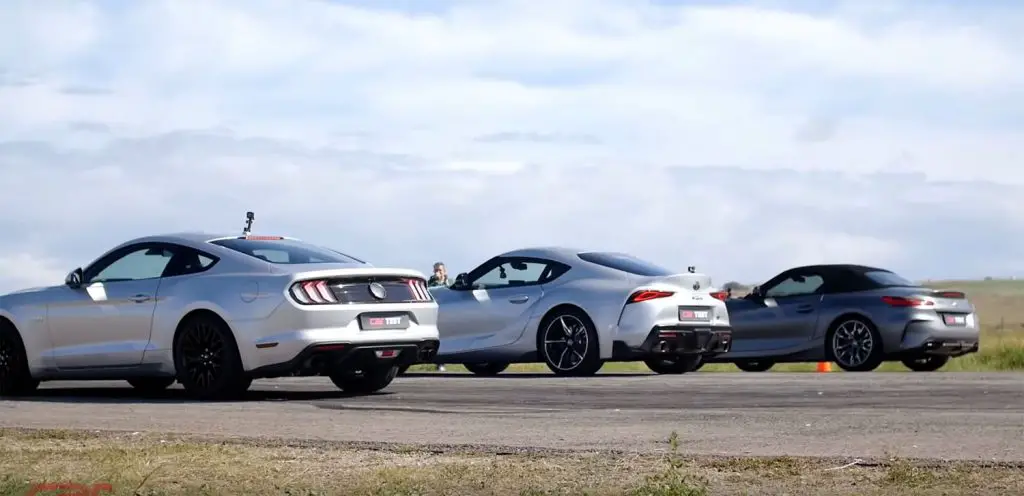 The Ford Mustang GT that is used in the drag race has the 5.0-liter V8 engine making 331 kW (about 443 horsepower) and 526 Nm of torque. This particular car was fitted with the 10-speed automatic transmission. The power ratings that the publication quotes are different than we see in the States.
There is a significant difference in weight for these three cars. The Supra is a hardtop and weighs in at 3,397 pounds. The Z4 tested is a convertible, and weight is around 3,457 pounds. The Mustang GT weighs about 3,700 pounds making it considerably heavier than both of the other cars.
You can watch the video to see the drag race here, but off the line, the surprising thing is that the Mustang GT falls immediately behind. It takes about half the race before the Ford Mustang GT can catch and pass the BMW. The Mustang GT is reeling in the Toyota when it runs out of track. The Mustang may have lost the drag race, but it is cheaper than both other cars and has a back seat. Mustang fans wanting to see more racing action can watch the Mustang GT race the Camaro SS.
Subscribe to Ford Authority for more Mustang news and around-the-clock Ford news coverage.