Ford says that the Ford Police Interceptor Utility is the best selling police vehicle in the country. So far there have been over 15,000 orders placed for the 2020 Ford Police Interceptor Utility vehicles. The conventional gas-powered version of the SUV will land in late August. Of that 15,000 units orders, 2,600 of them were for the 2020 Ford Police Interceptor Utility Hybrid.
The standard engine in the hybrid pursuit-rated police vehicle is the 3.3-liter V6 hybrid. The other engine is a 3.0-liter EcoBoost V6. Ford says that some of the police agencies tested the 2020 Ford Police Interceptor Utility Hybrid in advance, such as the LAPD, and placed orders for the vehicles.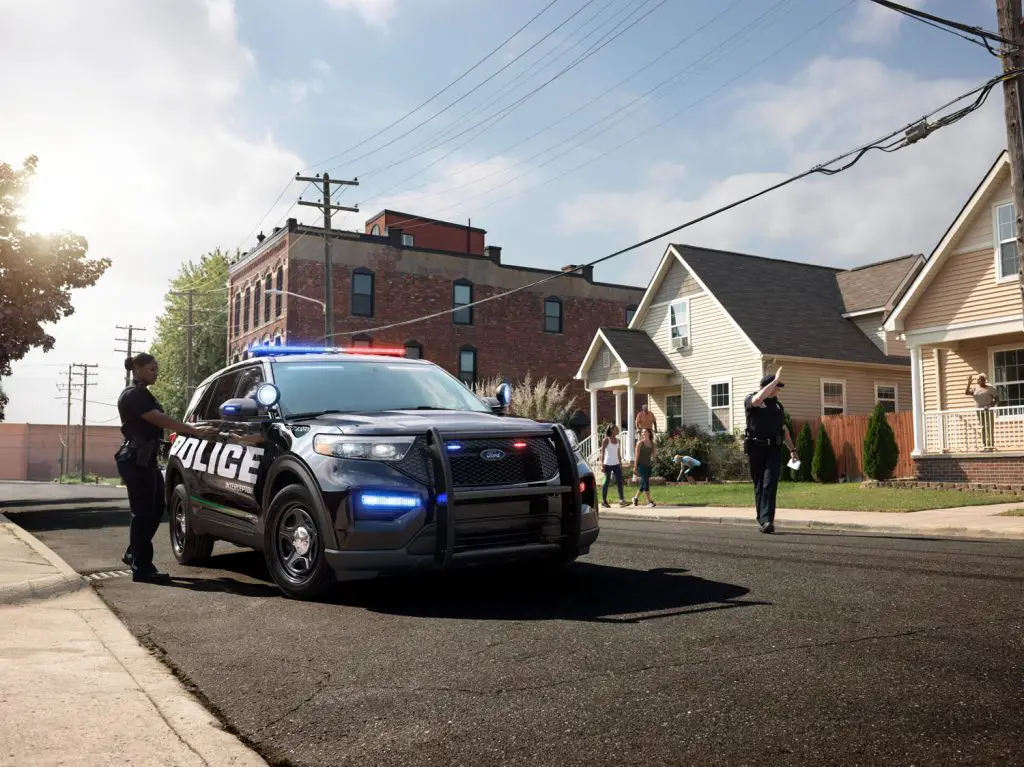 The LAPD has ordered 39 of the hybrid models and gives the departments more options than they had before. Ford notes that actual mileage may vary, but the Police Interceptor Utility Hybrid has an EPA-estimated range of 23 mpg city, 24 MPG highway, and 24 mpg combined. Estimates predict that police departments moving to the hybrid could save between $3,500 and $5,700 per vehicle annual in fuel costs vs. the current Police Interceptor Utility.
The hybrid also saves significantly on fuel when idling; something police vehicles do for extended periods. When idling the engine can shut off for extended periods with the police lighting and electronics continuing to function. The hybrid system uses its lithium-ion battery to continuously power all the emergency lighting, radios, computers, and other tech on board.
Despite the fuel savings, the Ford Police Interceptor Utility Hybrid was also the fastest of all police vehicles tested by the Michigan State Police in 2018. The vehicle had the fastest 0-100 mph acceleration, fastest lap, fastest average lap, and highest top speed of all police utility vehicles. Agencies in Chicago also tested the vehicle.
Subscribe to Ford Authority for around-the-clock Ford news coverage.