Ford robots aren't replacing human workers on the Fiesta assembly line in Europe. Instead, they are freeing workers to use their time on more complex tasks that robots can't perform. Ford says that it has introduced a team of collaborative robots that it calls cobots that work alongside engineers in Cologne, Germany to ensure that every Ford Focus produced there has a perfect finish.
There are six cobots on the assembly line and they are used for sanding the entire body surface of the Ford Fiesta. The Ford robots can complete the entire task in only 35 seconds. Ford says that its robots also free the workers from the risk of repetitive injury that goes along with sanding cars all day.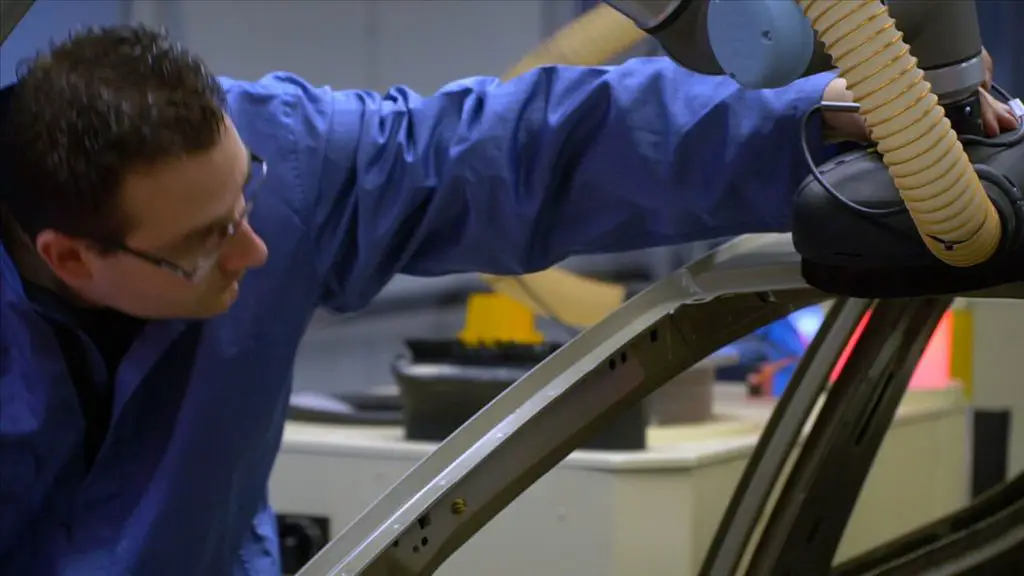 The Ford robots can feel when more force needs to be applied, just like a human can. The robots are also able to get to hard to reach places more easily than humans can. A 3D printed soft and flexible layer between the robotic arm and sandpaper enables the cobot to work with the same precision and dexterity that a human hand offers.
Each of the cobot robots is a UR10 from Universal Robotics, the best selling cobot in the world. The bots are used for sanding in the Fiesta production process after the car body is submerged in a special bath to provide more than a decade of corrosion protection. Ford says that after that dunking, small flecks can remain on the surface that are unseen to the naked eye but can be felt by hand. Those flecks can have a significant impact on the final paint finish quality if not removed.
The cobots also vacuum away any dust left behind in the sanding process. Before the sanded Fiesta bodies move to the next step, two Ford workers check the vehicles to be sure they are sanded perfectly. The video above shows the Ford robot arms in the choreographed sanding dance.
Subscribe to Ford Authority for more Fiesta news and around-the-clock Ford news coverage.