Ken Block and Batman have a lot in common in that they both have all the cool toys. Back in April, Ken block showed off his new desert/street modified Ford Raptor. The current generation Ford Raptor truck uses a 3.5-liter EcoBoost V6. In Block's modified Ford Raptor, the EcoBoost makes about 550 horsepower and 600 pound-feet of torque.
The first generation Ford Raptor had a V8 engine under the hood. The boat uses a supercharged version of the first-gen 6.2-liter Ford Raptor V8 that makes a claimed 550 horsepower. Block is towing his massive Supra ski boat behind his Raptor truck. Naturally, the boat matches the Raptor in color and livery.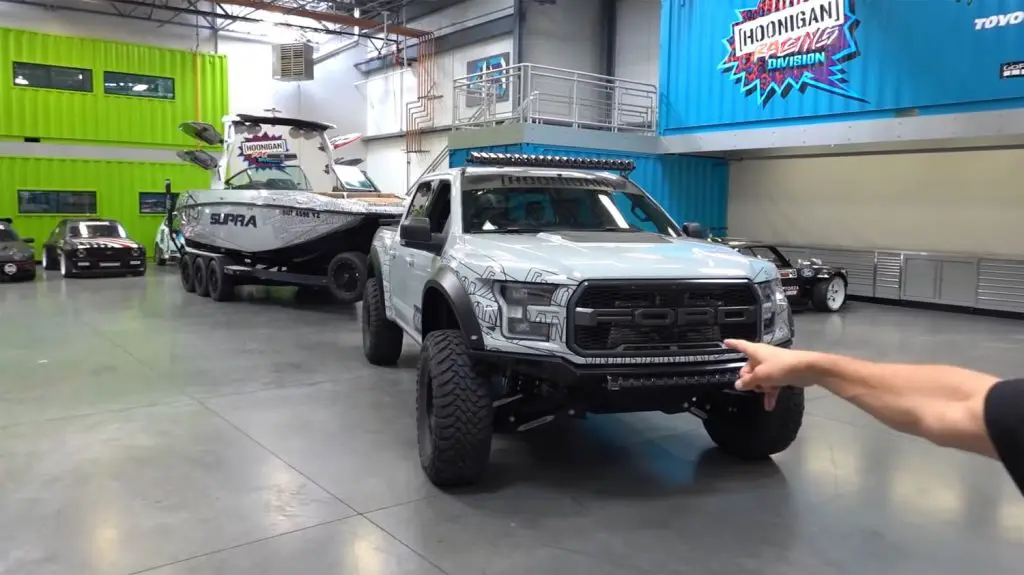 Block talks a bit about the modifications to his current white EcoBoost-powered Ford Raptor. The video notes that a tune, intercooler, and a full stainless exhaust system account for an extra 100 horsepower on the second-gen Raptor. Block also gets up to a nice burn out inside his shop. We still aren't a fan of the 3.5-liter EcoBoost exhaust note.
The Supra boat is super cool and has mounts all over the place for GoPro cameras. The supercharger whine from the Raptor motor inside the boat is awesome. Watch the video, and you also get to see Ken Block face plant in the water trying to do a trick. We didn't know you could power a boat with a supercharged Raptor motor. The engine was completely waterproofed for use in the boat.
Subscribe to Ford Authority for more GT500 news and around-the-clock Ford news coverage.