It's always fun to see people out at the drag strip or the road course racing their cars. There have been a lot of comparisons between the Ford Mustang GT and the new 2020 Toyota Surpa in performance. The two cars aren't exactly comparable in price or size. The Toyota Supra has no back seat and a BMW engine.
The Ford Mustang GT is much larger and heavier than the Supra but has a back seat. We've seen a couple of videos of Supra vs. Mustang GT drag races and track laps. Those videos were with stock cars. This video is the first we've seen that has a modified Supra facing off against a modified Mustang GT.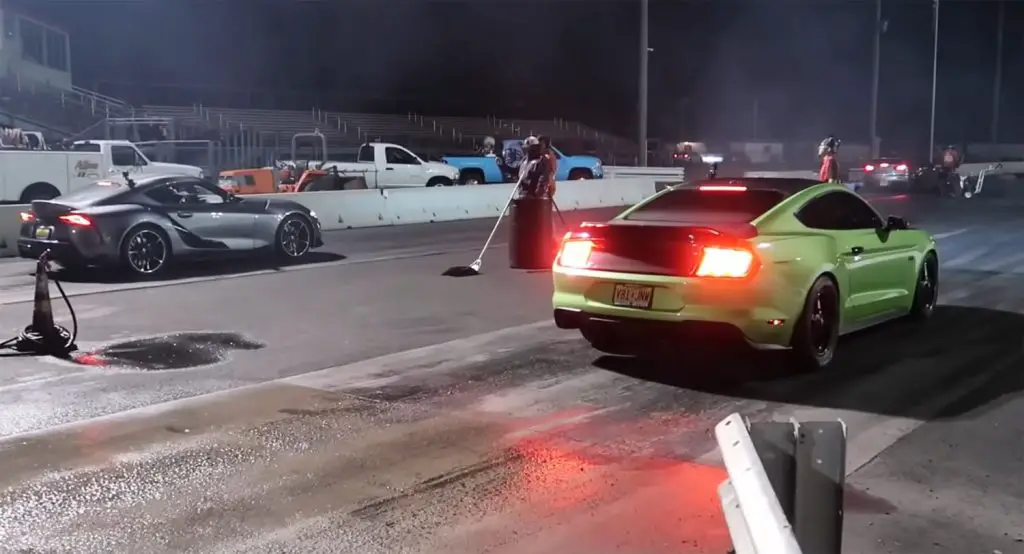 The Supra has a turbo upgrade, methanol injection kit, and a downpipe. We are sure that StangMode has a video out there somewhere running down his setup, but we can't find it. Things didn't go well for the Supra in the race. The owner of the car got stuck in traffic and only got a couple passes in before the night was over.
The first race saw the Supra spin on launch, and the Mustang GT went low 11s. The Supra driver owns the shop where the tuning work was done and tried to tweak his tune at the track due to the car not coming out of 5th gear. The results on the second run appear to be a better launch, but the car went into limp mode and killed the fun. The result is that we don't get to see a good race between the Mustang and the Supra. The Mustang sure sounds good.
Subscribe to Ford Authority for more Mustang news and around-the-clock Ford news coverage.