For much of the life of the Ford V8 engine, pushrods were the tech of the day. That tech has fallen by the wayside today. The last Ford Mustang to use a pushrod V8 was back in 1995. The engine in the images here with its graffiti is the very last pushrod V8 built for a Mustang. All the names scribbled on the engine are the names of the Ford workers on the assembly line when the last pushrod Mustang V8 rolled off in 1995.
The gang at Hotrod had the opportunity to take that last Mustang V8 and strap it to a dyno to see just what sort of power numbers the engine made after all these years. Challenge number one was getting the engine to fire up. The team trying to get the pushrod Mustang V8 on the dyno had to get a wire loom that canceled the factory sensors and wiring of the engine. The only change from what would have been used in a stock Mustang V8 was the use of a Holley EFI batch-fire setup.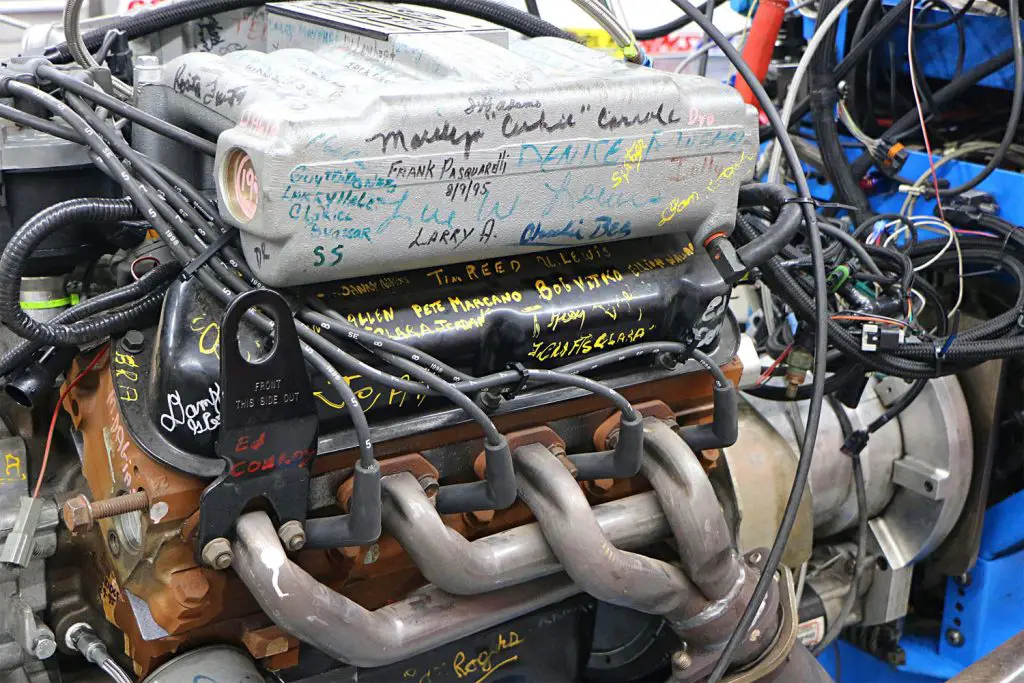 The 5.0-liter H.O. small-block V8 was rated at 215 horsepower and 285 pound-feet of torque when it was new. The engine, in this case, is being tested alone, so the power numbers are at the crank. The engine made 251.9 horsepower and 320.5 pound-feet of torque.
Those numbers are both well over what the engine was rated for at the factory. Interestingly, the Hotrod crew has some other plans for the special 5.0-liter Mustang V8 engine. We wonder what is next for the motor. We also wonder if all the 5.0-liter V8 engines of the era were similarly underrated. Check out this 1983 Ford Mustang with a 5.0-liter V8.
Subscribe to Ford Authority for more Mustang news and around-the-clock Ford news coverage.
Source: Hotrod