It takes a bunch of horsepower to be able to lift the front wheels on a drag car and a lot of sticky tire. Lifting the wheels isn't going to win races for the most part, but it looks very cool. Judging from the way this 2013 Shelby GT500 lifts the front wheels up (way, way up) the driver might want to think about some wheelie bars.
In some of those races, the car smashed down with enough force that we expected to see broken parts left on the track. When the Shelby GT500 can keep the front wheels at least close to the ground, it movies out with serious speed. The car put down a 7.80-second run at 176.81 mph.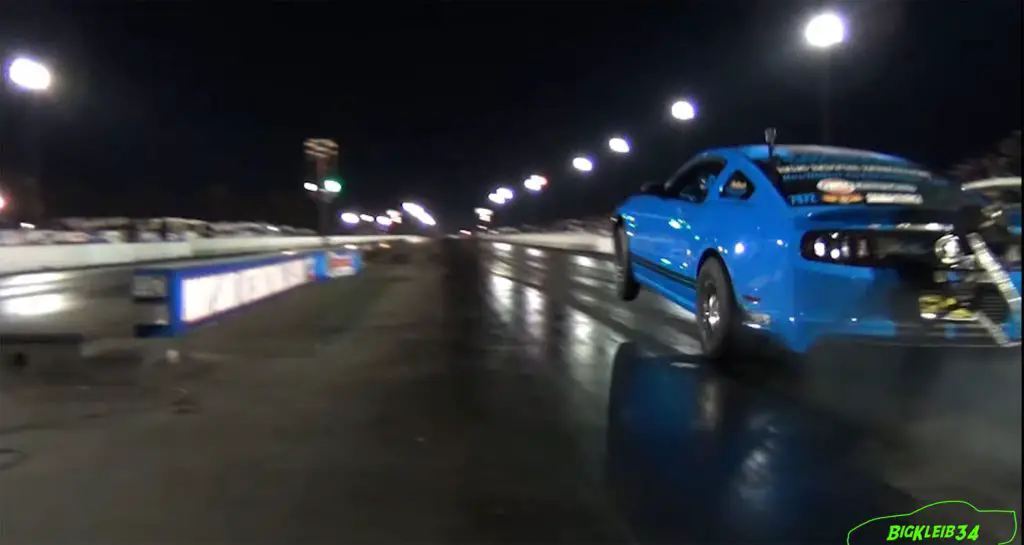 The specifications on the car are impressive. The Shelby GT500 has 2,000 horsepower at the crank and 1,700 horsepower at the rear wheels. The engine is an L&M Race Engines 5.8-liter 4V modular motor. A Precision 76mm turbo crams air into the engine at 24 psi. The monster amount of horsepower and torque go to the road via a TH400 transmission.
The rear end has to be stout to survive that much power and the two-wheel launches this Shelby GT500 is capable of. This car has a stout rear end with a FAB Ford 9-inch. The tuning for the car was done by Lund racing using the factory computer. The car is incredibly fast, and it looks good too in Grabber Blue.
Subscribe to Ford Authority for more GT500 news and around-the-clock Ford news coverage.