If you leave miscreant motorheads alone with enough time and money, they will build something weird and drive the wheels off it. Case in point are the guys from Hoonigan Daily Transmission who have a new video out where a Ford Bronco jumps over a semi-trailer as a McLaren 720S is drifting underneath it. It takes a very well built truck to survive repeated jumps, and the Bronco appears up the task.
The owner of the Ford Bronco is a guy called Michael Cox, and he loves to jump the truck. It uses vintage King shocks that they say are from 1985 to absorb the pounding from the jumps. Cox's Bronco is set up pretty nice and the fact that he jumps it all the time and the truck still works is a testament to the build and the strength of the Ford Bronco.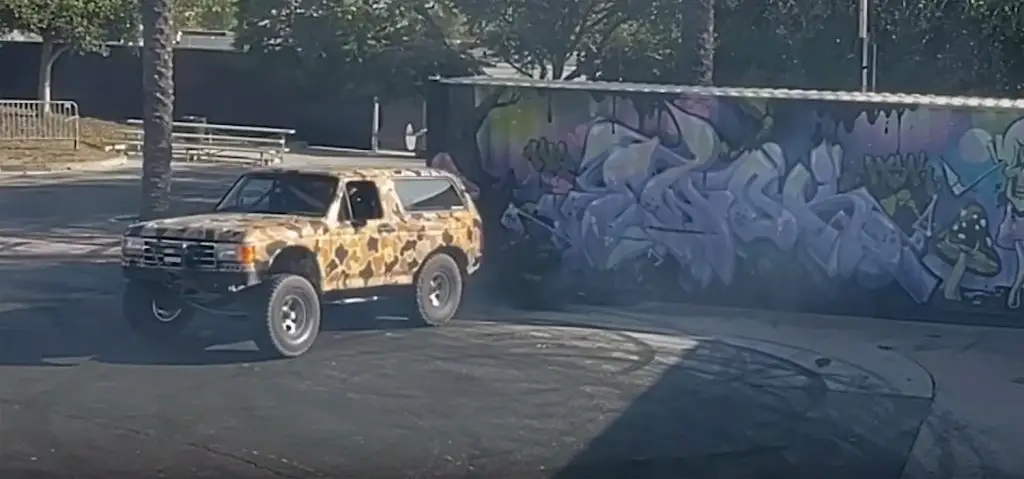 The only thing that Ford fans won't like is that the Ford Bronco is powered by a junkyard GM V8 that was originally in a Cadillac Escalade. That V8 is stuffed with some mild cams and has a fancy home built exhaust manifold that exits out of the fender and looks pretty cool under the hood. He says it has 418 pound-feet of torque at the wheels and that equal length exhaust header is the reason it makes so much power.
The Bronco is wrapped in camo vinyl that has cats hidden in the pattern. It's an awesome truck, and Cox does say that he plans to get some modern shocks on the Bronco. If those let him do crazier stunts, we want to see it. We wonder what it feels like when that big Bronco smashes back onto the ground; it looks like quite the impact.
Subscribe to Ford Authority for more Bronco news and around-the-clock Ford news coverage.
Source: YouTube