NHRA drag racing is one of the most popular motorsports in the country. The speeds the cars can travel in a quarter-mile is incredible. Anyone who has never been to an NHRA event needs to go at least once, be sure to take hearing protection and be prepared to move your head quickly.
At the recent AAA Insurance NHRA Midwest Nationals, racer Tim Wilkerson lined up in his Mustang Funny Car. The Mustang Funny Car launched first and had the race right up until an explosion that was fierce enough that it blew the body off the Funny Car Mustang.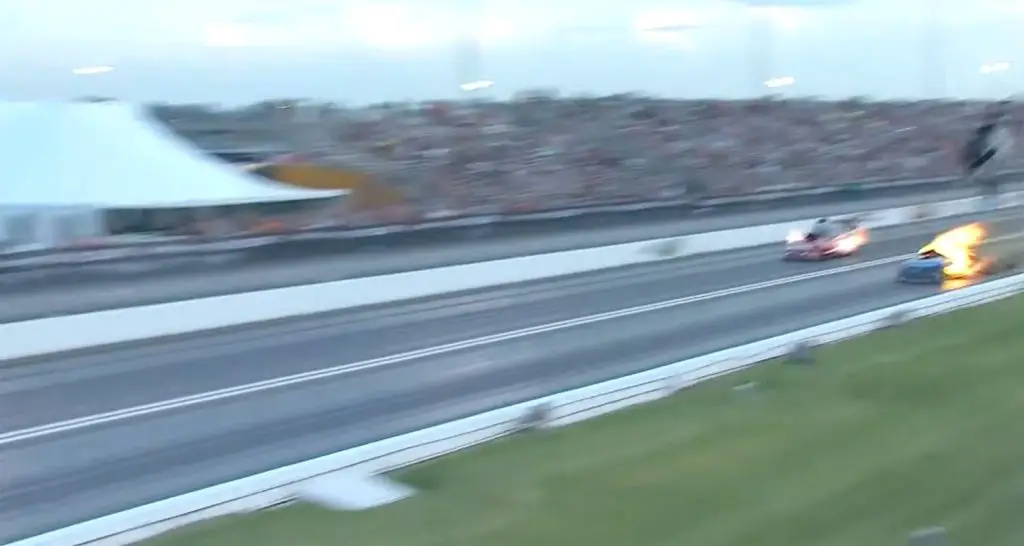 Wilkerson was able to get the Mustang Funny Car stopped and get out of the vehicle. The car was on fire after the massive explosion and fire crews at the track had to put the car out. It doesn't appear that Wilkerson had any injuries in the accident.
We have no idea what caused the explosion, and there is no indication in the video. Wilkerson said that right before the explosion, "it just kind of half-way laid over, then bang." We assume he meant that the car lost power before the explosion.
The team had a backup car as Wilkerson said the team would "have something" for whoever they raced the next day. We wonder what the explosion felt like that close to the engine. Funny Cars are incredibly fast running a sub-4-second quarter mile at well over 300 mph. Get a closer look at the NHRA Mustang Funny Car.
Subscribe to Ford Authority for around-the-clock Ford news coverage.