There are lots of things you can do to a 2018 Ford Mustang GT to get more power than the car comes with from the factory. One of the best ways is to strap a pair of turbos to the car. The gang over at FathouseFabricaitons has several different levels of turbo love they can heap on a 2018 Ford Mustang GT like the one in the video below. This particular car has one of their most powerful offerings called the 1250R.
FathouseFabrications will go all the way up to a 1500Rx package. The 2018 Mustang GT in the video here is a 1250R twin-turbo car, and it put down 1143 horsepower and 963 pound-feet of torque at the wheels. The 1250R package only makes the power we are talking about here on E85 or race gas.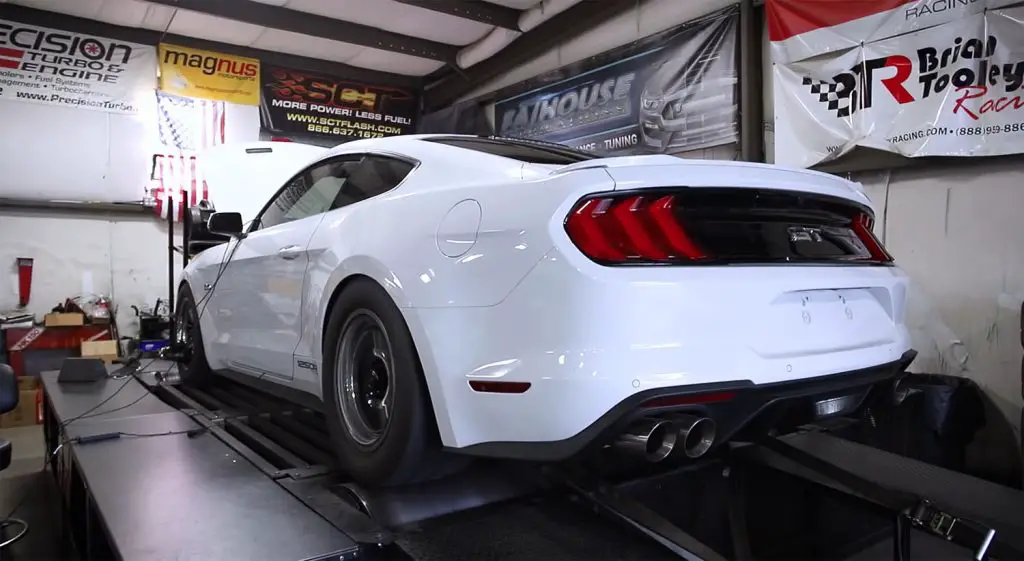 FathouseFabrications says that a 1250R car can make up to 750 horsepower at the wheels on 93 octane fuel. On E85 or race gas, the car can make 1200-plus wheel horsepower. These cars are capable of quarter-mile runs in the 8-second range with an Auto featuring drag pack. The list of components that go into a 1250R car is massive.
The full list of components includes:
Hand-built stainless steel turbo headers
Full custom stainless steel exhaust, no mufflers (aggressive sound)
Precision tig welding throughout
Xona Rotor dual ball bearing turbochargers
Heat coating and turbo blankets
Electronic boost control with multiple settings
Tial MVS recirculated wastegates (No loud exhaust dumps all you hear is sweet turbo sound)
Tial Q blow off valve
4.5″ Thick Intercooler (symmetrical design)
Coated intercooler piping (zero ground clearance loss)
Custom Air Filters
Purpose-built scavenge system
Catch can system with lines and fittings
Injector Dynamics Injectors
Return style fuel system
Built 6R80 Trans and Upgraded Converter
Triple fuel pump upgrade
Forged engine package
Upgraded sleeves
Billet Oil Pump and Crank Sprocket gears
Carbon fiber driveshaft
Level 5 axles
Suspension upgrade
Drag Pack Wheels and Tires by Weld Racing
Professional installation
Custom dyno tuning, true flex fuel setup
Dyno chart printouts
Professional video and photos of your build
1250R Owner's Manual
Serial Number Plaque
Subscribe to Ford Authority for more Mustang news and around-the-clock Ford news coverage.