They say if you are going to advertise, you should know your audience. It appears that Ford knows its audience well. Ford knows that Texans like big trucks and big SUVs. A nice, big SUV and an ice-cold can of Dr. Pepper makes that 15-minute drive to the closest grocery store much better for Texans. Ford also knows that it crammed exactly 15 cupholders into the Ford Expedition, and that's a problem when the three-row SUV is packed.
Most soft drinks only come in 24 packs and 12 packs. Ford wanted one complete package of Dr. Pepper that would fill all those Expedition cup holders and not leave any rogue cans rolling around in the back. Texans don't waste Dr. Pepper. Ford and Dr. Pepper are offering the new limited-edition 15-pack for the Expedition owners out there.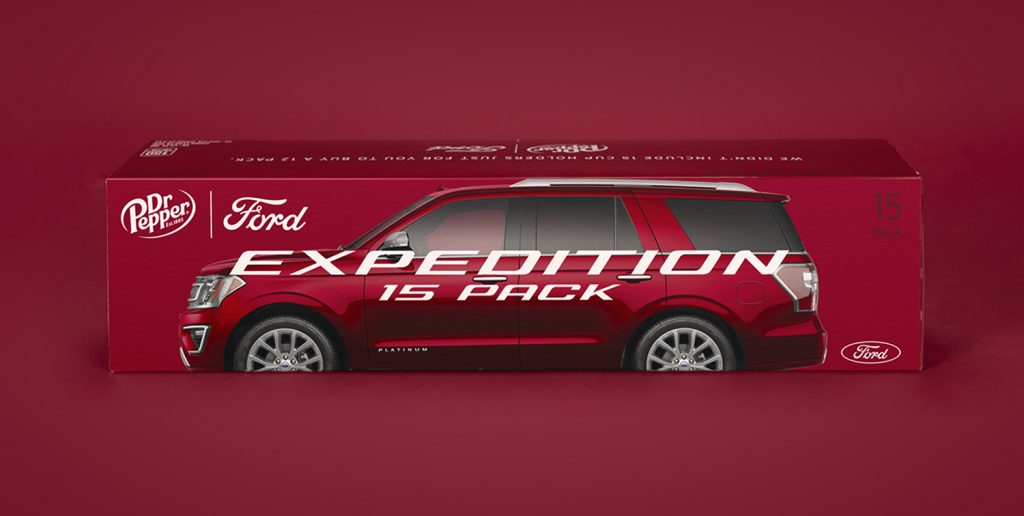 The special tie-up celebrates what might as well be the official soft drink of Texas and the fact that Expedition sales were up 53 percent in September 2019. Ford says that Expedition sales account for a bit more than two-thirds of the growth in the large SUV segment. You can't buy these special 15-packs of Dr. Pepper in stores.
The only way to get one is to be at the annual University of Texas vs. University of Oklahoma football game at the Cotton Bowl Stadium in Dallas, Texas. The limited-edition packs are going to be given away for free at that game. Ford recently announced that the Expedition King Ranch trim was making a return. The full-size SUV has a two-tone exterior, premium Del Rio leather on the inside, and Ziricote wood veneer on the interior, along with those 15 cup holders.
Subscribe to Ford Authority for more Ford Expedition news and around-the-clock Ford news coverage.