Ford has been moving parts for some of its vehicles from steel to composite materials to save weight and improve noise isolation. The 2020 Ford Explorer is using a composite dual dash engine shroud. Ford is also researching the use of structural composite suspension parts. Another Ford vehicle is getting a new composite part to shed weight.
The Ford Focus will get a new lightweight door module carrier that has considerable weight savings without sacrificing performance. A Chinese firm called Kingfa is making the composite pellets for the part. The continuous fiber-reinforced material is known as KingPly, and it meets the high requirements set by Brose for the door module carrier.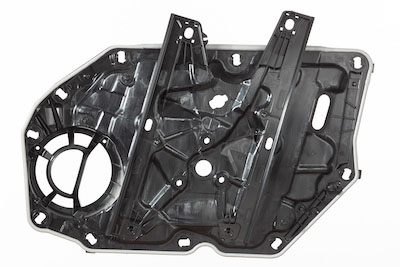 While being lighter and meeting strength requirements, the composite door module carrier also has increased functional integration. The weight savings for the part is about 35 percent compared to a standard injection molded door module carrier. Switching to the composite door module carrier saved a four-door Focus over a kilogram compared to the normal 30 percent long glass fiber-reinforced polypropylene door module carrier used before.
The composite design saves more than 5kg compared to using a standard metal door connect without a plastic carrier on the Ford Focus. Kingfa's composite material is based on unidirectional tape layers. The single layers are made from KingStrong unidirectional tape to make semi-finished, custom, products in the form of sheets.
The sheets can be fine-tuned to the application requirements. In the Ford Focus door module, the thin but strong multi-layer material is fabricated to give the part stiffness and strength. Kingfa cuts the sheet, to the exact measurements needed, so no cutting or waste is created at the manufacturing plant. The forming of the composite and injection occur on the same tool making high-volume production possible.
Subscribe to Ford Authority for more Focus news and around-the-clock Ford news coverage.