The Ford Fund has announced a significant investment in Bangkok that will see it open the first Asia-based Ford Resource and Engagement Center (FREC) in the Nang Loeng neighborhood in Bangkok. The Ford Fund will invest THB 53 million investment ($1.75 million) through 2023.
FREC is run by its eight founding partners, and the Ford Fund says that includes some of the most creative and up-and-coming nongovernmental organizations, social enterprises, and foundations. FREC aims to serve thousands of Bangkok residents. FREC's Bangkok partners run a program that focuses on food waste, environmental protection, education, technology, community engagement, and the arts.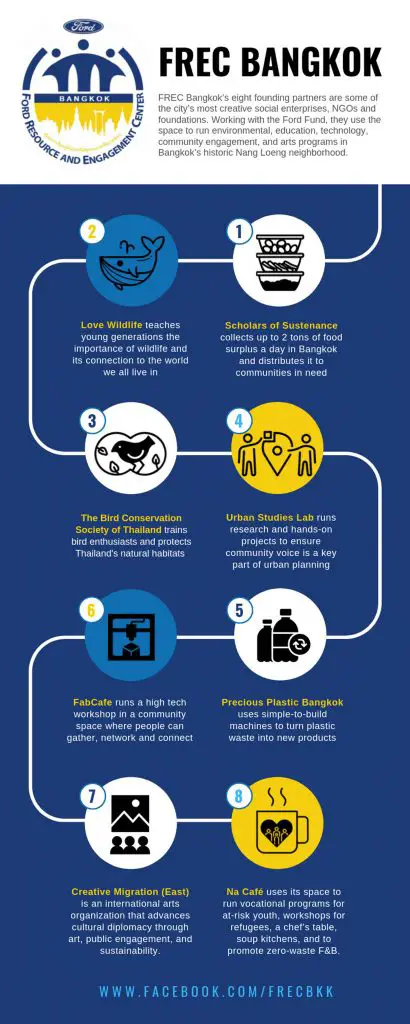 The Ford Fund says that FREC Bangkok is a long-term commitment to a neighborhood that is brimming with untapped potential. FREC Bangkok is located in the Satri Julanak School in the Pomprapsattruphai district that is famous for its Nang Loeng food market. The new FREC is part of the Ford Fund's $15 million global network of community centers that Ford launched in 2013.
The original FREC is in Detroit and has returned $3 in services to the local community for every $1 that Ford and participating nonprofits have invested. The Bangkok FREC is a partnership between the Ford Fund along with an international grant-making partner GlobalGiving and eight NGOs, social enterprises, and foundations.
Another of the FREC partners, Scholars of Sustenance, will use FREC Bangkok as its headquarters for food rescue operations. Its fleet of six trucks collects up to two tons of excess food daily from the restaurants, grocery stores, and hotels around the city. That food is inspected for safety and then distributed to more than 30 shelters across Bangkok. The Ford Fund recently gave members of the Detroit Youth Choir $1,000 scholarships.
Subscribe to Ford Authority for around-the-clock Ford news coverage.