Ford is embedding a 4G LTE modem inside just about all the 2020 year model large and commercial vehicles. The modem allows fleet owners to use FordPass Pro apps and other services to keep an eye on their fleets. A company called Geotab has announced the availability of the Geotab Integrated Solution for Ford Vehicles.
The system integrates Ford vehicle data into MyGeotab platform giving fleet managers one dedicated portal with "powerful tools" that can process data from vehicles with an embedded modem. The service also works on vehicles with a third-party modem device.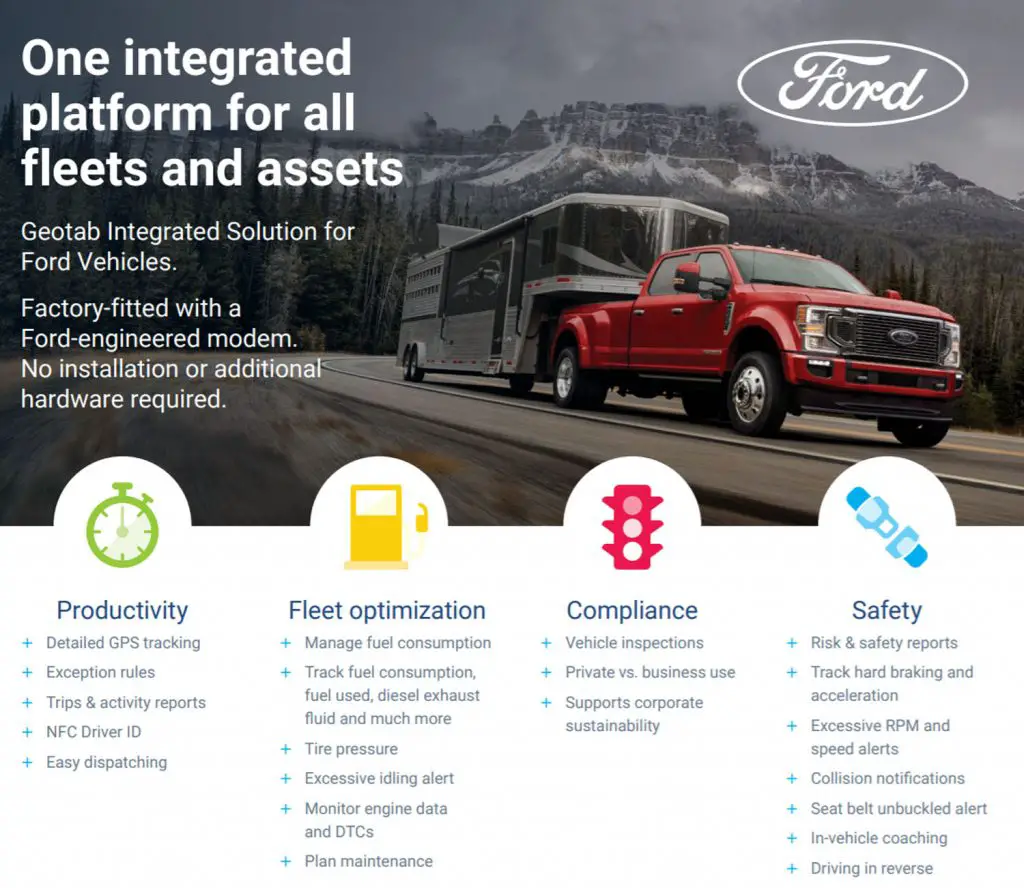 Integration with Ford Data Services allows secure transfer of data from Ford vehicles with the factory modem or the Ford Plug-in modem to the Geotab cloud. There is no third party hardware needed in the vehicles. This puts an entire fleet in one portal and gives access to the Geotab Marketplace.
The Marketplace is a portfolio of mobile apps, hardware add-ons, and software add-ins that allow Geotab customers to customize the fleet management solution. Ford-specific data is offered for all Ford 2020 or newer models in the States. The service provides things like detailed GPS tracking, trips, and activity reports, NFC driver ID, easier dispatching.
It will track fuel consumption, tire pressure, excessive idling alert, monitor engine, and DTC codes, and allow the planning of maintenance. The system also tracks vehicle inspections, private vs. business use, and supports sustainability. Other features include unbuckled seat belt alerts, collision notifications, and excessive rpm, and speed alerts, among other things. The FordPass Pro app offers some of these same features to fleet managers and is direct from Ford.
Subscribe to Ford Authority for around-the-clock Ford news coverage.
Source: Geotab