We've said it once, we'll say it a bunch more – we love a Fox-body around here. We may lean more towards a clean Mustang LX of '87 to '93 vintage, but we also like Mustang GTs of that era. Don Rahman's 1991 Mustang GT is a thing of beauty, and it has a massive engine to go along with its good looks. The first thing you notice about the car is the gray paint.
That color is an Audi shade called "Nardo Grey," and its slathered all over the body of the 1991 Mustang GT. Rahman and a friend built the car in a rented garage starting back in 2014. The build is immaculate with an engine by that Rahman, a metal fabricator, welded up using parts from the company he works for called Scott Rod Fab.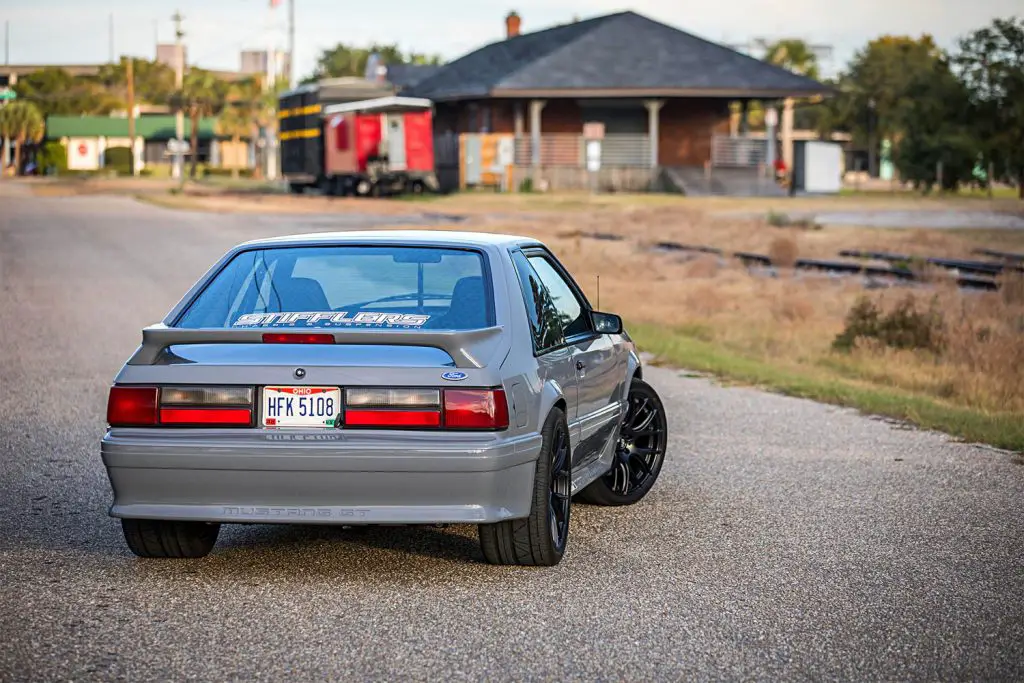 The powerplant that is clearly not a vintage 5.0-liter engine, it is a 408 cubic-inch Windsor stroker V8 that makes 416 horsepower and 447 pound-feet of torque at the wheels. The big V8 has an Edelbrock 90mm throttle-body, Edelbrock Victor Jr. intake manifold, and 47 lb/hr fuel injectors. The fuel injection system is a Holly HP standalone EFI system. The heads are Dart Pro 1 units sitting atop a block packed with a Scat crankshaft and Scat H-Beam connecting rods connected to JE pistons.
All that power goes to the wheels via a T5 five-speed transmission to an 8.8-inch Ford rear with 3.73 gears. The suspension components are from Maximum Motorsports and came out of what the company calls its Grip Box combo. That combo includes torque arm rear suspension and tubular front suspension. Each corner has coilovers with Maximum Motorsports Koni Sport Yellow shocks and struts. The car also uses Kenny Brown Performance Matrix System subframe connectors.
The 1991 Mustang GT has been down the quarter-mile in 11.61-seconds at 117 mph. It looks ready for a road course too. The interior has a Holley touchscreen dash, Corbeau seats, harnesses, and a roll cage. Check out this 1991 Mustang LX 5.0 convertible that looked like new.
Subscribe to Ford Authority for more Mustang news and around-the-clock Ford news coverage.
Source: Hotrod