Eaton has announced that the Eaton TVS R2650 supercharger is the blower that sits atop the hand-built, Ford Performance Tuned 5.2-liter V8 engine that powered the new 2020 Shelby GT500. The TVS R2650 supercharger is part of the Eaton Twin Vortices Series platform with a patented rotor coating for improved efficiency.
Eaton uses a high-twist, four-lobe rotor design that is 15 percent larger than the TVS 2300 supercharger that was used on the past generation Shelby GT500. The new blower runs at 12psi on the GT500 and has improvements to maximize efficiency.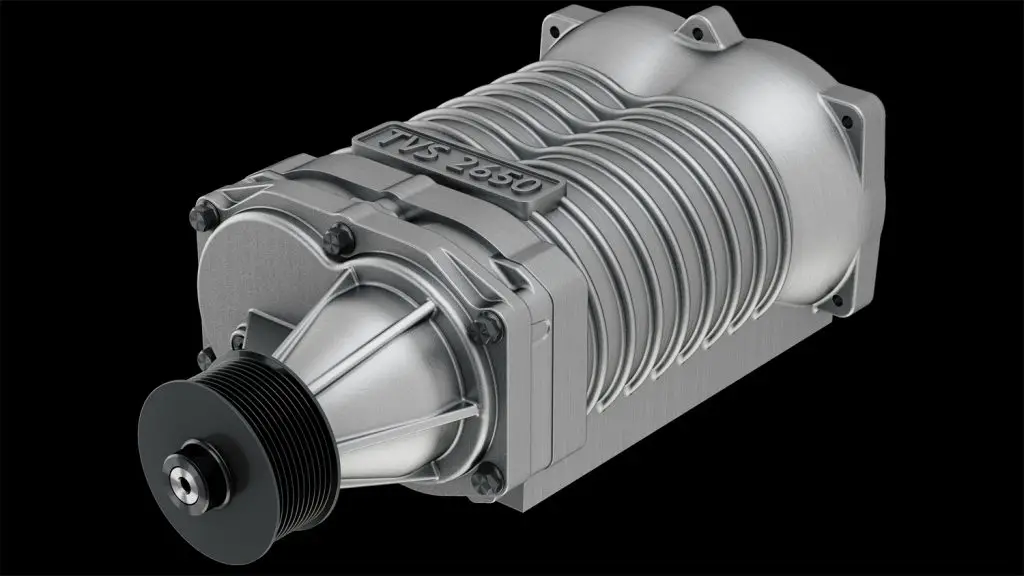 The blower is the key to the 2020 GT500's ability to make 760 horsepower and 625 pound-feet of torque. The power output from the big V8 makes the car the most powerful street-legal Ford ever. The rotors use a 170-degree helical twist of the rotors, which is 10 degrees greater than previous TVS rotors.
Eaton notes that the TVS R2650 supercharger also has bearing plate pressure relief points that reduce trapped volume pressure and optimize sealing for better flow efficiency. Eaton is one of the largest producers of superchargers for all sorts of applications. The company has produced more than 7.5 million superchargers globally for a variety of needs.
Eaton notes that the tech used in its TVS series of superchargers continues to enable cleaner and more efficient engines. TVS blowers are positive displacement units that are able to boost power instantly and are found in kits offered by many aftermarket companies like Roush. The 2020 Ford Mustang Shelby GT500 has a hand-built engine, watch one get assembled here.
Subscribe to Ford Authority for more GT500 news and around-the-clock Ford news coverage.