About a year ago, Ford issued a recall on nearly a million Ford F-150 trucks due to the risk of fire. The issue that led to that recall was an engine block heater cable that might get water and other containments inside and lead to a short circuit and potential for fire. Ford admitted at the time that it was aware of one fire in the U.S. and one in Canada relating to the recall.
A couple from British Columbia says that they have been waiting for months for Ford Canda to offer compensation for their damaged property. Mike Dorvault and his wife Toni say that when they took their 2016 Ford F-150 truck in for door latch repairs covered under another recall, they were told of the recall for the potential fire risk.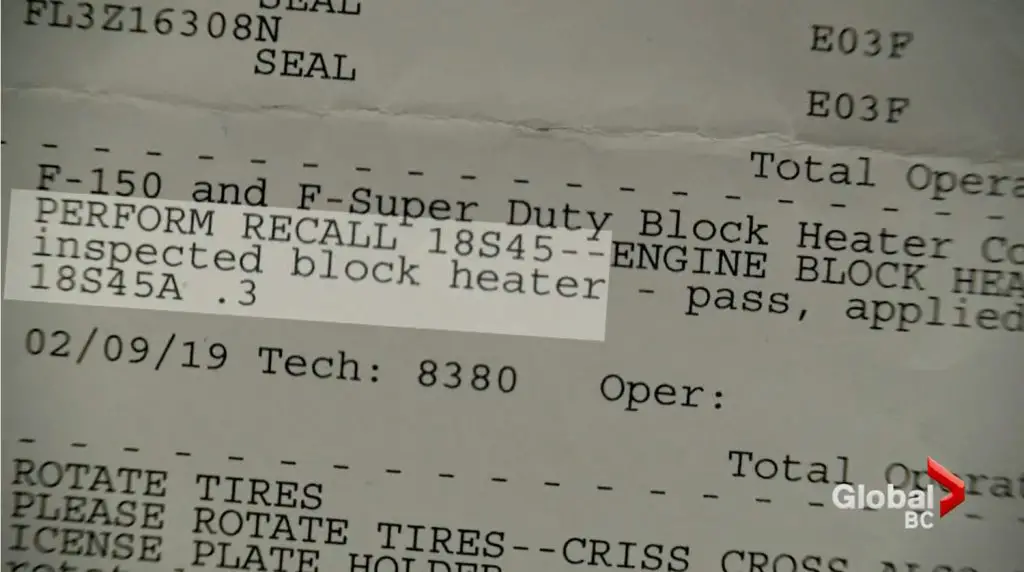 The couple says that their Ford dealer looked over the engine block heater cable, but didn't make any repairs. The report given to the couple from the dealership shows that the engine block heater wire assembly had passed inspection and was greased. Dorvault noted that he expected the dealership to replace the assembly, but they just greased it and said it was good.
Only ten days later, when the man plugged the 2016 Ford F-150 into the outlet to turn on the block heater, the truck went up in flames and was a complete loss. An origin and cause report performed by the Insurance Corporation of British Columbia concluded from heat and flame patterns as well as witness observations that the fire had originated within the engine block heater's splice cable connection. The couple eventually got a replacement truck through the insurance company.
They note that the fire causes approximately $10,000 in property damage to their driveway and fence. Toni Dorvault says that they had to scrape the truck off the asphalt driveway when they picked ut up because the truck was "glued" to the asphalt. The couple says for ten months Ford Canada hasn't offered to pay for the repairs. Ford Canada has apologized for the delay and has said that they have put the couple in contact with the person handling the case.
Subscribe to Ford Authority for more F-150 news and around-the-clock Ford news coverage.
Source: Globalnews.ca