One of the favorite pastimes for many people who own cool Ford cars and trucks is to detail their rides to keep them shiny and looking new. There are right ways and wrong ways to clean a car, and anyone who thinks that the local automated car wash or the foaming brush is ok needs to reevaluate their car cleaning skills.
Ford has a very cool and relaxing (at least for car people) video called "ASMR: Ford GT Wash and Wax | Speed Therapy." It starts with a black Ford GT with red stripes sitting in the center of a massive wash bay. The black Ford GT looks perfectly clean to us before the wash starts, but we won't judge.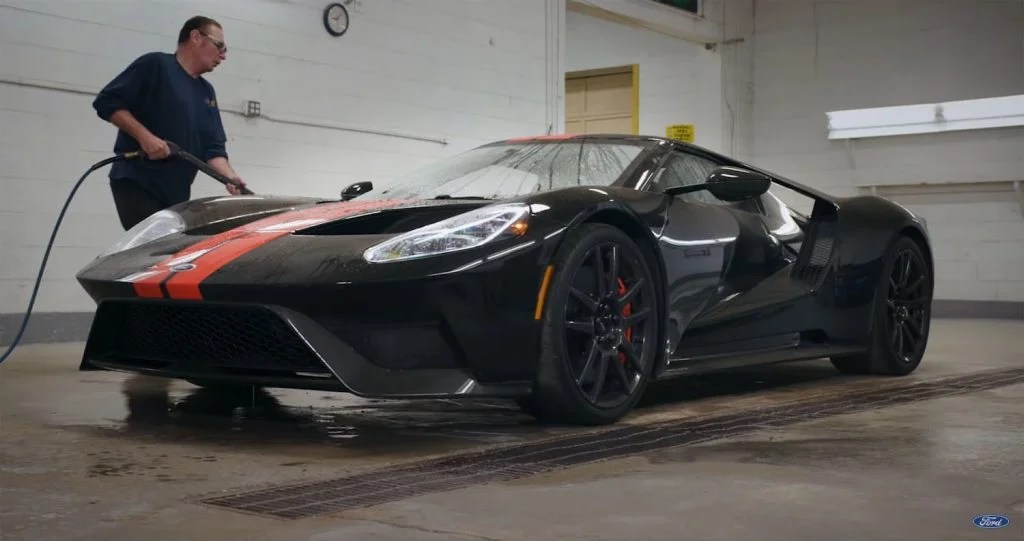 The video shows a guy with a pressure washer rinsing the loose dirt off the car and cleaning the wheel wells. After everything is finished, they come back with what appears to be some sheep-skin-style wash mitts and lather the beautiful sports car up. We aren't detailing experts around here, but the video makes us cringe a bit. They certainly aren't going back to the wash bucket often to get the dirt off the mitt. We hope they have a grit guard in place inside the bucket and are using the trusty two-bucket method.
The fastest way to scratch a car, especially a black car, is to get some dirt caught in your wash mitt and proceed to rub that all over the surface of the car. After it's all lathered up, they give the car a good rinse. The rinse is also where we cringe; they wipe the vehicle down with what appears to be microfiber towels. Please save the Ford GTs and use an air blower to get the water off! By the way, the first 2017 Ford GT recently sold at auction for big money.
Subscribe to Ford Authority for around-the-clock Ford news coverage.