During a media event in Los Angeles, Ford introduced a new chapter not only in its history as a company, but also for its iconic nameplate, the Ford Mustang. In front of a crowd of employees, members of the media and other guests, the 2021 Ford Mustang Mach-E made its official world debut.
We say official, because images and information on the Mach-E was leaked on the web and made public two days ago, followed by another leak less than 24 hours before the reveal. That didn't stop Ford from putting on a show and unveiling its all-new fully electric vehicle, or what was called the Mustang-inspired EV before officially announcing its name just a few days before the reveal. The Mustang Mach-E shares some styling cues with the Mustang sports car in addition to the running pony logo, which Ford Authority was the first to report.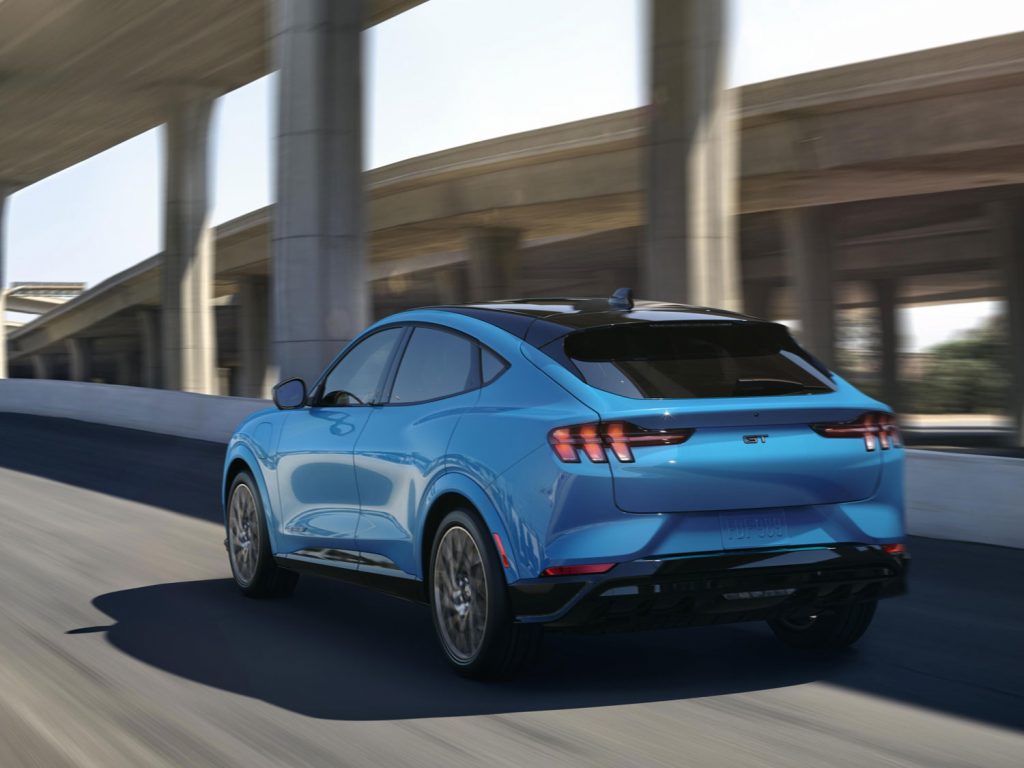 As we previously reported, the Mustang Mach-E will be available in many trim levels, including Select, California Route 1, Premium, First Edition, GT and GT Performance Edition. Rear-wheel and all-wheel drivetrains will be offered, as are two battery sizes: Standard Range (75.7 kWh) and Extended Range (98.8 kWh). Power ranges from 255 to 332 horsepower in the first four variants, while the GT and GT Performance Package boast a Ford-estimated 459 horsepower and 612 pound-feet of torque.
The GT is expected to blast from 0 to 60 mph in less than four seconds, while the GT Performance Edition is said to hit 60 mph in the mid-three-second range. Ford claims it to be just as quick off the line as the Porsche 911 GTS, which is similar to the off-the-line performance for the 760-horsepower, 2020 Ford Mustang Shelby GT500.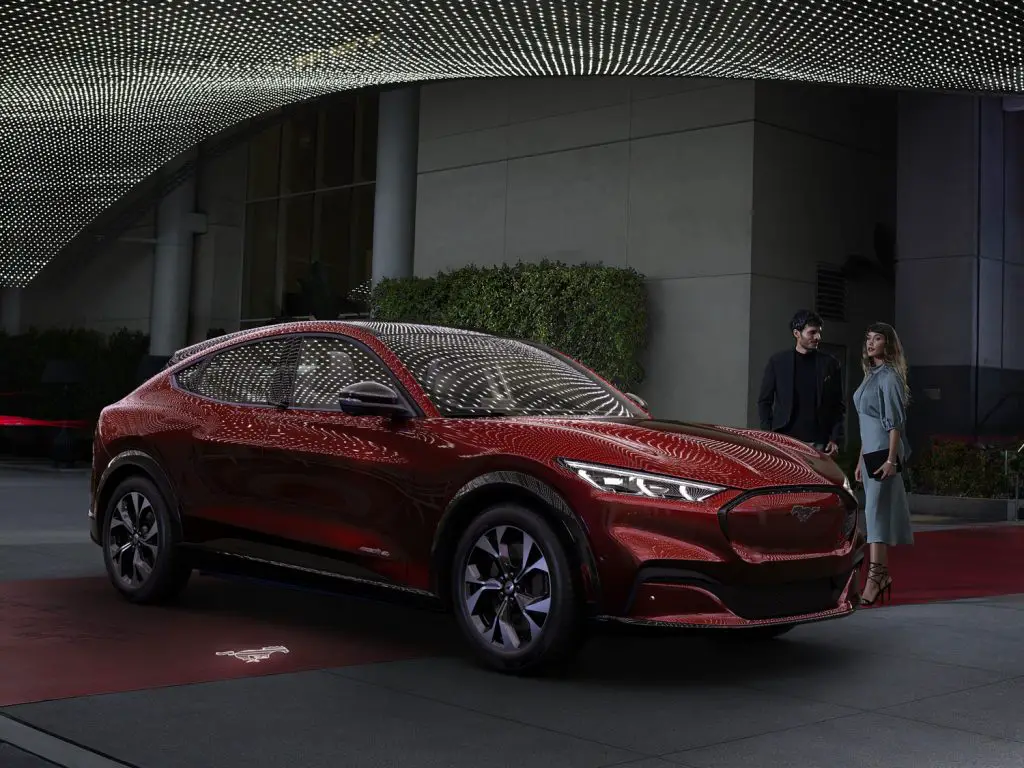 The GT Performance Edition will be equipped with Brembo Flexira brake calipers, MagneRide dampers and an adaptive suspension that adjusts to road conditions. As for the all-wheel drive system, it was designed to apply torque independently to the front and rear axles, although we don't yet know if it can vary power side to side during cornering or on slippery surfaces.
Three drive modes are available in the 2021 Ford Mustang Mach-E – Whisper, Engage and Unbridled. Those names really tell it all in regards to energy conservation, throttle response, driving dynamics and "engine" sounds.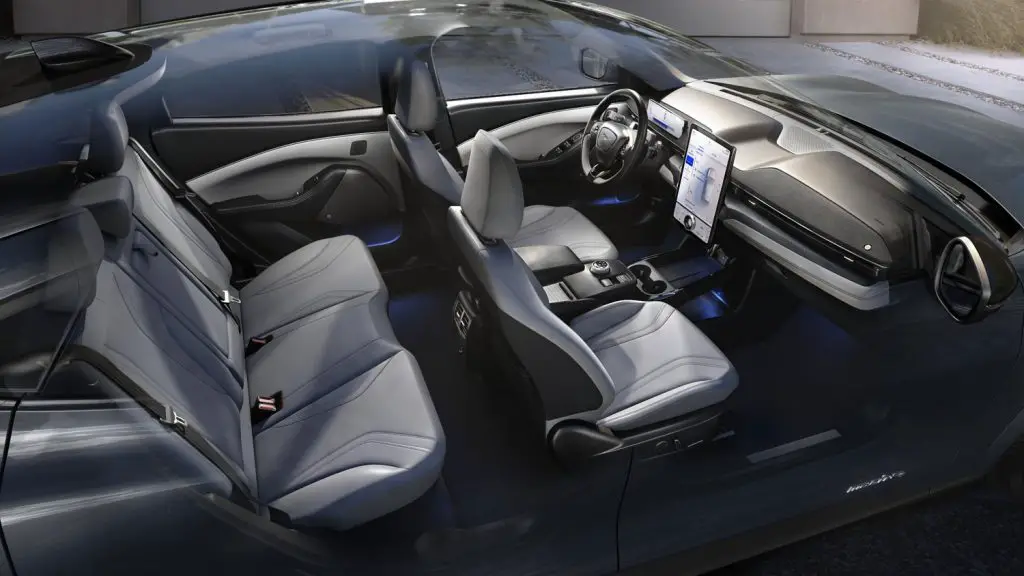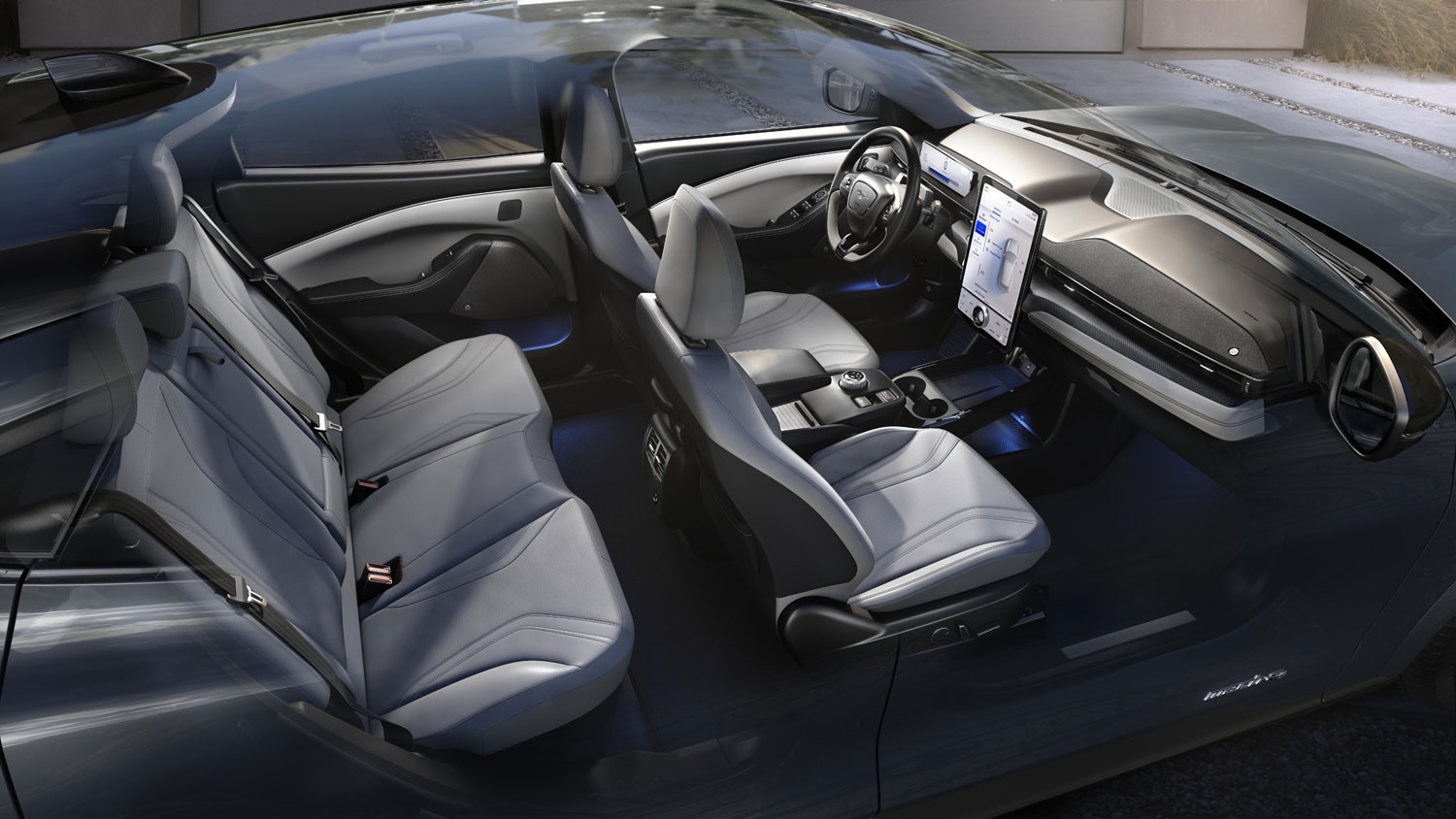 Ford is not only flaunting the Mach-E's performance and handling capabilities, but also its high levels of on-board technology. The vertically mounted 15.5-inch touchscreen, first reported on by Ford Authority, integrates the company's new Ford SYNC 4 infotainment system, which the company says is so easy to use, there's no need for "back" or "home" buttons. The giant screen relies on a single rotary dial in addition to powerful voice recognition software, and passengers can give it commands by first saying "Ok, Ford."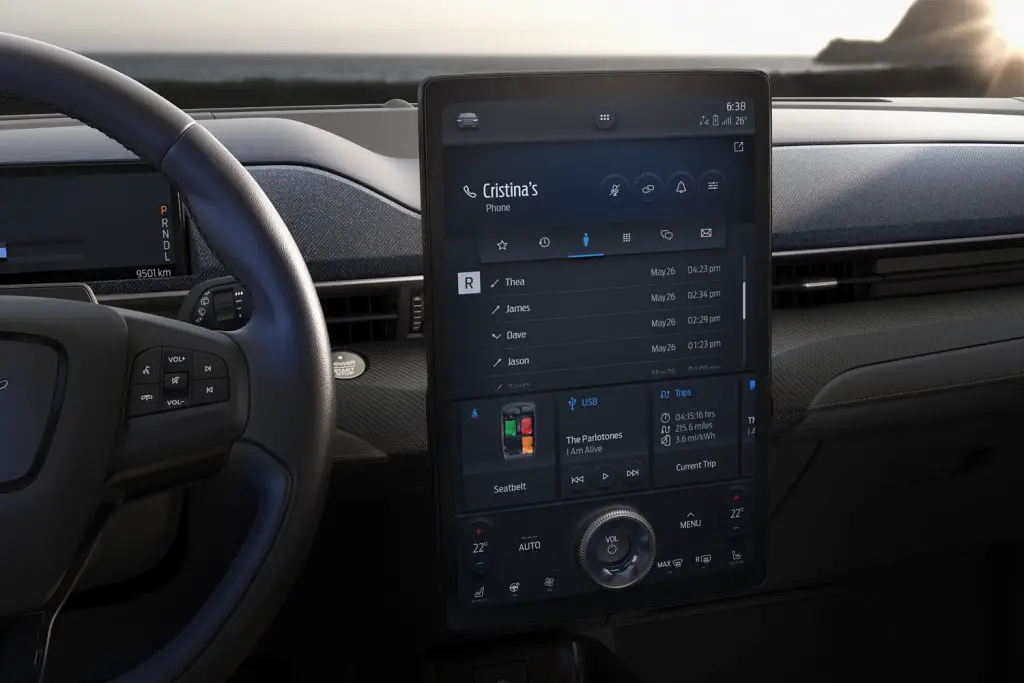 The base Mach-E Select includes 18-inch alloy wheels, a 10.2-inch digital instrument cluster, Ford Co-Pilot360 2.0 and Co-Pilot360 Assist 2.0 advanced safety driving aids as well as LED exterior lighting. The Premium adds a power tailgate, a panoramic glass roof, 19-inch wheels, heated front seats and steering wheel, a 360-degree camera system and a B&O 10-speaker sound system. Other available features include unique exterior and interior trim details found in the limited-run First Edition variant as well as the California Route 1, GT and GT Performance Edition.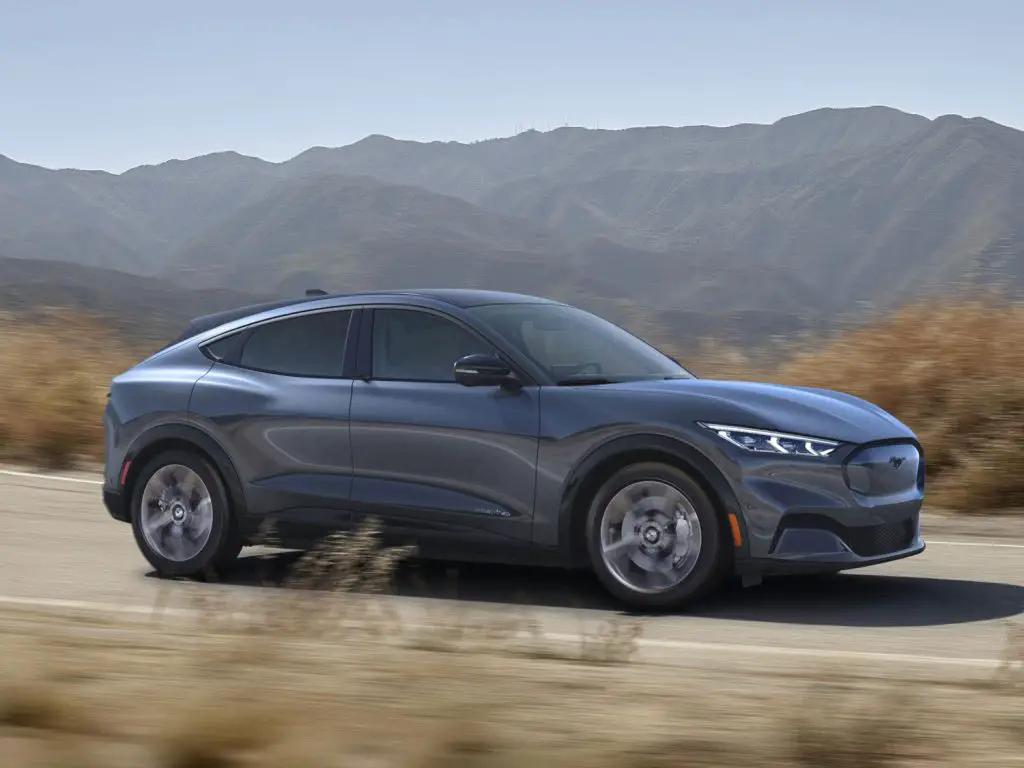 Starting prices range from $43,895 to $60,500, $1,100 destination and delivery charge not included, although the GT Performance Edition's MSRP hasn't yet been revealed. All are eligible for the current $7,500 Federal Electric Drive Motor Vehicle Tax Credit. We previously reported that the Mach-E would start at around $40,000, so we weren't that far off. The First Edition and Premium trim levels will be available in late 2020, while the Select, California Route 1 and GT variants will arrive in early 2021. Customers can pre-order their Mach-E on Ford's dedicated website.
2021 Ford Mustang Mach-E Trims & Specs

| Trim level | Power/Torque (hp/lb-ft) | Est. Range (miles) | 0-60 mph (sec.) | Est. MSRP (USD) |
| --- | --- | --- | --- | --- |
| Select SR RWD | 255 / 306 | 230 | low 6-sec | $43895 |
| Select SR AWD | 255 / 417 | 210 | mid 5-sec | $46595 |
| Premium SR RWD | 255 / 306 | 230 | low 6-sec | $50600 |
| California Route 1 ER RWD | 282 / 306 | 300 | mid 6-sec | $52400 |
| Premium SR AWD | 255 / 417 | 210 | mid 5-sec | $53300 |
| Premium ER RWD | 282 / 306 | 300 | mid 6-sec | $55600 |
| Premium ER AWD | 332 / 417 | 270 | mid 5-sec | $58300 |
| First Edition ER AWD | 332 / 417 | 270 | mid 5-sec | $59900 |
| GT AWD | 459 / 612 | 235 | under 4 sec | $60500 |
| GT Performance Edition AWD | 459 / 612 | n/a | mid 3-sec | n/a |
We'll have a lot more coverage on the new Mustang Mach-E in the coming days, so be sure to subscribe to Ford Authority for more Ford Mustang news, Mustang Mach-E news and around-the-clock Ford news coverage.