We've seen trend Supras square off against the Mustang GT before, and the race action wasn't that great in that video. This time out, the guys at CarWow have hands on a Litchfield tuned Toyota Supra that packs 440 horsepower and 600 Nm of torque from its 3.0-liter six-cylinder engine.
The Ford Mustang GT in the race appears to be stock with its 5.0-liter V8 engine making 450 horsepower and 530Nm of torque. The Mustang GT is a version with a 10-speed automatic transmission. The supra is known to be underrated from the factory, but with a tune that doesn't really matter. The video offers a drag race from the dig, rolling race, and a brake test. The first race is the one from the dig.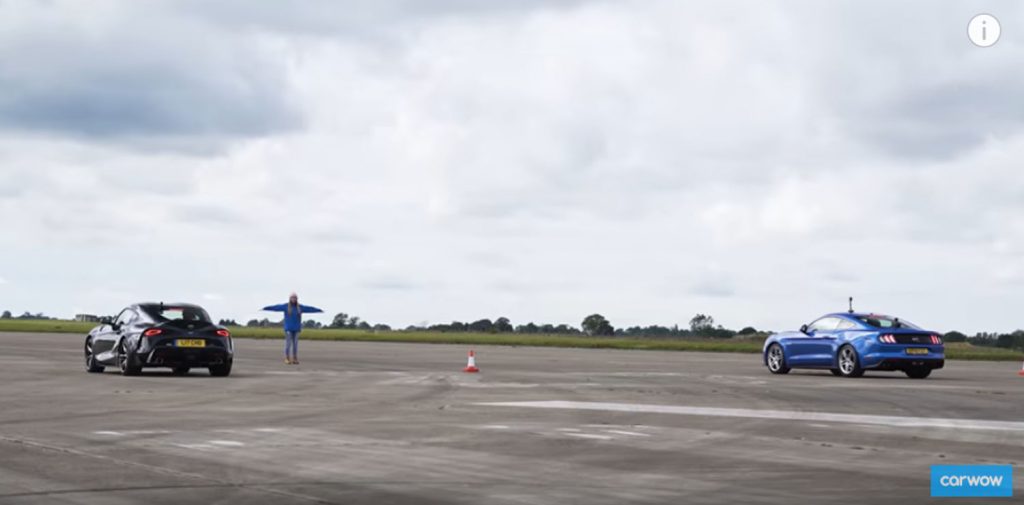 The Supra leaves on launch control, which the Mustang lacks. The Supra takes the first race. they line up for another form a dig with no launch control. The second race was a worse loss for the Mustang. The first race saw the Supra put down a quarter-mile run of 12.1-seconds compared to the 12.7-second time for the Mustang GT.
The next race was a rolling race at 50 mph with the cars set for comfort. The roll race saw the Mustang beaten again. The tuned Supra is much faster than a stock Mustang GT. The Mustang wins in the cost department; the Supra is "53,000 pounds" in the UK plus about "a grand" for the ECU upgrade. The Supra is also rather homely to our eyes.
Subscribe to Ford Authority for more Mustang news and around-the-clock Ford news coverage.