The movie "Ford v Ferrari" has taken over the box office, destroying all comers last weekend when it opened. While the main actors Christian Bale and Matt Damon get most of the press when it comes to the film, there is a cast of other excellent actors in the movie. One of those actors is Tracy Letts, who plays Henry Ford II. In one scene of the "Ford v Ferrari," he takes a ride inside one of the GT40 racing cars that Damon's Carroll Shelby had built.
While Letts' character says, he was born ready, ready for the speed he was not. At the end of the scene, he is left crying in the passenger seat of the car. Letts recently gave an interview to Deadline, where he talked some behind the scenes details of that particular scene, and as it turns out, he may have had reason to cry.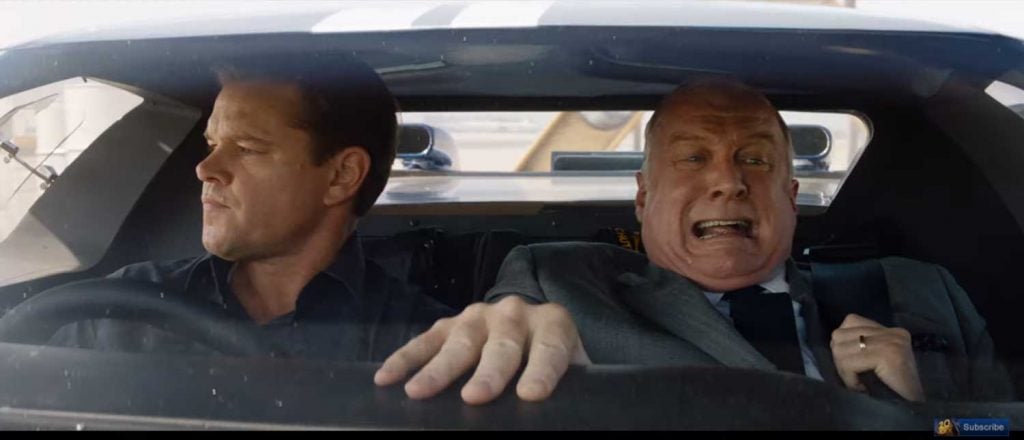 Letts says that the scene wasn't a single take noting that they did many, many takes. Despite all the takes, it was the very first take that made it into the movie. Letts says he didn't know it was that first take until he saw the film for the first time.
He said that the day of filming was "pressurized" and there wasn't a lot of talk about it beforehand. He noted that director James Mangold set the underpinnings for the scene and just let it happen. Letts and Damon were actually strapped into the car, and they actually drove at 100 mph and that they really did "slam to a stop." The car was pulled behind a camera car called "Biscuit," which was "quite fast." Letts says that the GT40 had cameras all over it and that it was small and cramped, and there was no way to get out between takes. Letts noted that Damon was a good partner in the scene and that he had a great time that day.
Subscribe to Ford Authority for around-the-clock Ford news coverage.
Source: Deadline