The fact that the Mustang Mach-e is coming is well known; Ford has been taking reservations for the vehicle for a while now. Earlier today we talked about some factoids that Ford shared that shows what most people had reserved so far when it came to the now sold-out First Editon of the EV. A slide has surfaced on the Mach-E Forum that allegedly came from a Ford dealer that shows the timeline for Mustang Mach-E.
According to the timeline in the Winter of 2019-2020, which is now, reservations start, and the dealers should reach out to congratulate the first Mach-E customer. The forums indicate that most have yet to hear from a dealer about their Mach-E reservation.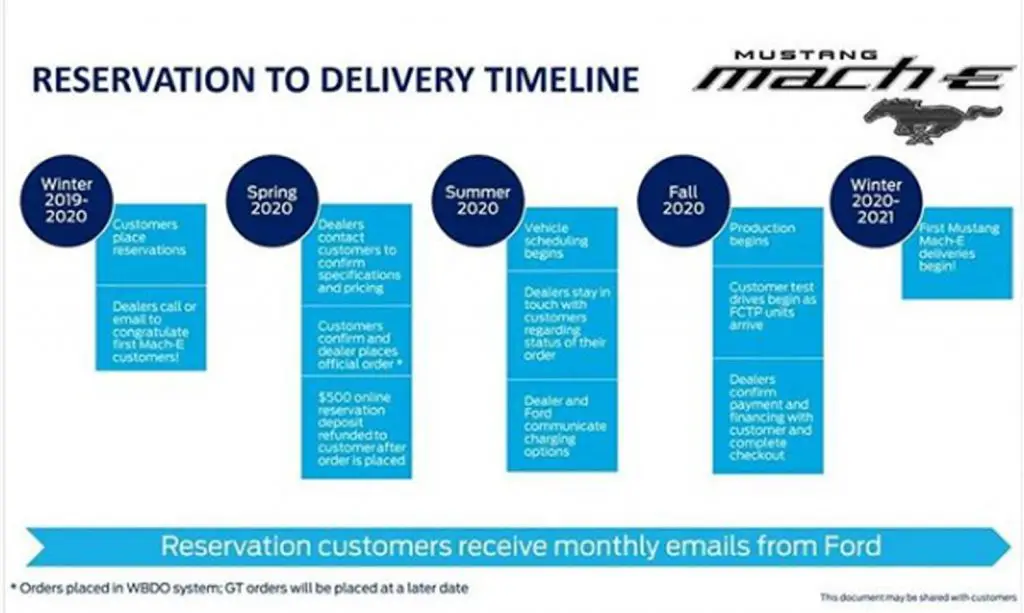 In the spring of 2020, dealers are supposed to contact customers to confirm specifications and pricing on their orders. Once customers confirm the order, the dealer will place the order for them. Once the order is placed, the $500 reservation fee will be refunded.
When the summer of 2020 rolls around, vehicle scheduling will begin with dealers staying in contact with customers about their orders. Dealers and Ford will communicate charging options. Some are speculating that a charger might be bundled into the price of the car.
The fall of 2020 will see production begin and customers being able to test drive early production Mustang Mach-E EVs at the dealership. Dealers will also confirm payment and financing with the buyers to complete checkout. The first deliveries will start in the winter of 2020-2021. The slide notes that reservation customers will receive monthly emails from Ford about their vehicles. While the First Edition is sold out, the Premium and GT versions are still available for reservations.
Subscribe to Ford Authority for more Mach-E news and around-the-clock Ford news coverage.
Source: Mach-E Forum