We love the 2020 Shelby GT500, and when it was announced that the car started at $73,995, we were more than a little bummed. It's not just the high starting price, its the fact that we KNEW Ford dealers were going to jump all over the price gouging bandwagon, and they most certainly did. We talked last week about a dealer that had a 2020 Shelby GT500 with every option, including the track pack and painted stripes for right at $146,000. That equated to a money grab of $40,000 over the base price of the car.
If you ever needed proof that most dealers were going to try and gouge those interested in the Shelby GT500, look at this. A Ford dealer in LA called DCH Ford of Thousand Oaks has a base 2020 GT500 in shadow black listed at $169,999 (not pictured). That is an incredibly absurd $96,000 dealer markup. We sincerely hope no one buys it. We would love to see this car sitting there marked down $10,000 below sticker four years from now because these greedy rats marked the car up that much.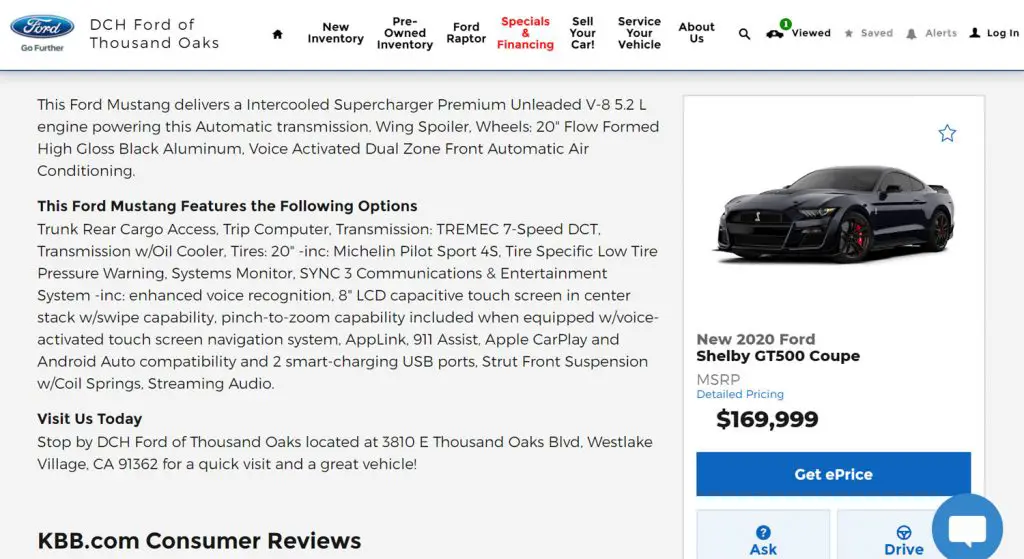 We often wonder if dealers will ever learn that the ill will they create with this tactic more than outweighs any extra money they make on a single sale. Ford steadfastly refuses to make any comments on these massive dealer markups. We will go on record warning Ford Mustang Mach-E fans; there will be massive markups on these EVs as well. Just because you plunk down your $500 to reserve one doesn't guarantee you one at sticker.
Ford has told dealers they can't advertise the Mach-E at under MSRP, but it has said nothing about adding markups to sticker price. We wish Ford would stop the madness and rein in the greedy dealer network that is causing harm to the brand. It's hard to get excited about a cool sports car when you know it will cost thousands more than sticker thanks to greed.
Subscribe to Ford Authority for more GT500 news and around-the-clock Ford news coverage.