We've seen plenty of images of the Ford Mustang Mach-E. Most of those images were either Ford PR offerings or showed the Mach-E clad in heavy camo. What we haven't seen is a version that isn't in camo out in the wild. Images have turned up on the Mach-E forums of the EV sans camo.
Perhaps more importantly, the images show the Ford Mustang Mach-E driving alongside what appears to be a Chevrolet Colorado giving us some perspective to see how the vehicle is sized. The Chevrolet Colorado is a mid-size truck that competes directly with the Ford Ranger.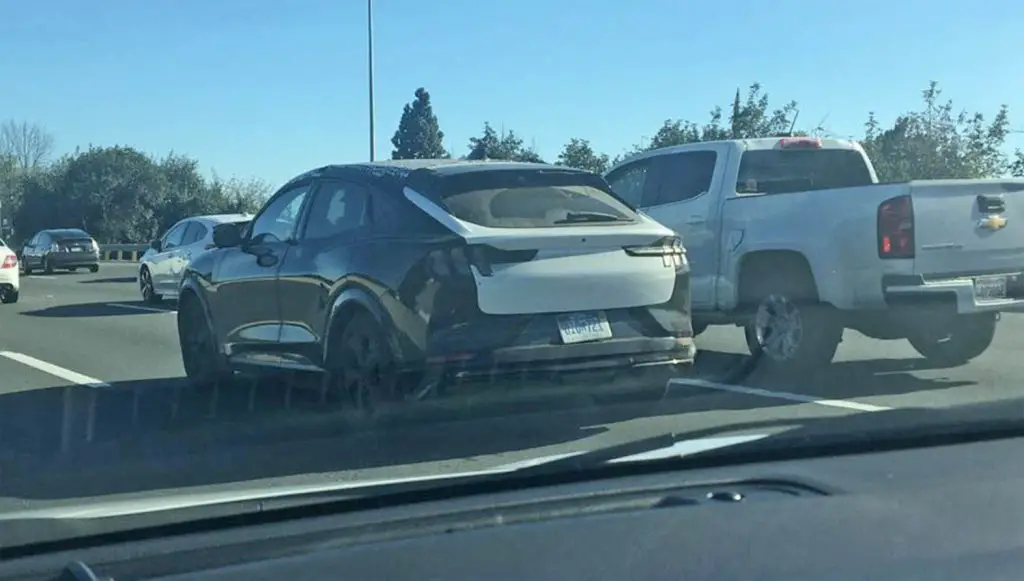 The Mach-E certainly isn't as long as the Colorado truck, but the Ford EV certainly isn't a small vehicle. In the video where Ken Block drives the Mach-E, it looked very tight with three adults in the back seat. We aren't sure which version of the Mach-E this is.
Interestingly, the entire Mach-E is clad in black except for the trunk hatch. Some of the forums state that this has been seen before and that the black is a wrap. For some reason, the hatch isn't being wrapped. It also looks to us like the roof of the EV might be wrapped in camo still.
The person on the forum who posted the image wrote that the vehicle was spied on the 101 in LA. The poster also points out that while it's the same black and white color scheme as the Mach-E spied in the past testing in Florida, this one has a different plate number. We are about a year away from the first Mach-E deliveries, and fans of the vehicle are waiting for that day to come.
Subscribe to Ford Authority for more Mach-E news and around-the-clock Ford news coverage.
Source: Mach-E Forum