Police agencies around the country are lining up to get their hands on the all-new 2020 Ford Police Interceptor Utility Hybrid, Ford needs to deliver them. The Chicago Police Department ordered 200 of them for its fleet. The hybrid technology means that departments stand to save thousands of dollars per year for each hybrid that replaces a traditional police cruiser.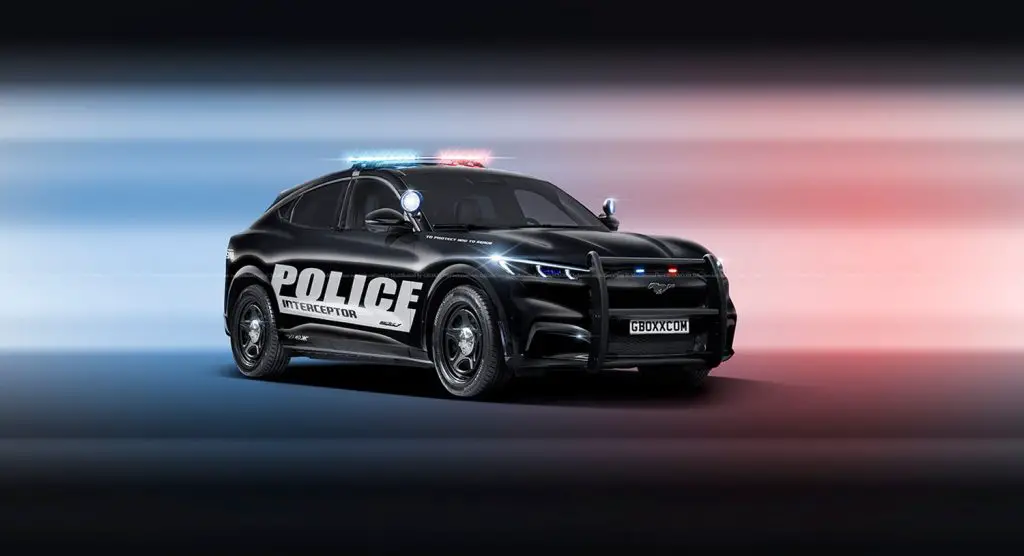 With police departments trying to save money on fuel and help reduce pollution, a Mustang Mach-E police car might make sense. Anyone that wondered what the Mustang Mach-E might look like in police livery with lights, these renderings show you. The renderings show a Mach-E complete with red and blue flashing lights up top, in the trunk lid, and in the grille area.
The front of the Mach-E also has the required bullbar for protecting the car in the event it ever has to spin a bad guy's car off the road. Each side of the windshield has a spotlight that can be controlled from inside the car. The wheels on the rendering are the basic black steel units Ford favors for its police vehicles.
With a range limited to 300 miles per charge and a charge time that will need a full shift to recover, the Mach-E isn't the most practical of police cars. That said, it might be perfect for applications where it's not used all the time or where it only drives a short distance during shifts, like parking enforcement or patrolling tight downtown areas. Practicality aside, the Mach-E police car looks very cool. The renderings are from a designer called Aksyonov Nikita.
Subscribe to Ford Authority for more Mach-E news and around-the-clock Ford news coverage.
Source: Behance