A new Ford patent filing has turned up, and this one has to do with an EV's frame and battery system. While many automakers have so far put the battery pack under seats or in the trunk of larger vehicles, Ford's patent outlines a different arrangement. The patent shows a frame that uses cross-members and creates a "plurality" of battery compartments inside the frame of the vehicle.
Essentially, the battery packs are integrated into a body-on-frame platform that would be suitable for the Ford F-150 EV that we know is coming. We assume this patent app isn't giving us a glimpse at what the skateboard platform Ford will be using for some Lincoln EVs in the future as that platform would presumably be a Rivian patent. The patent art shows an electric motor on each of the front and rear axles of the vehicle with the battery packs in between.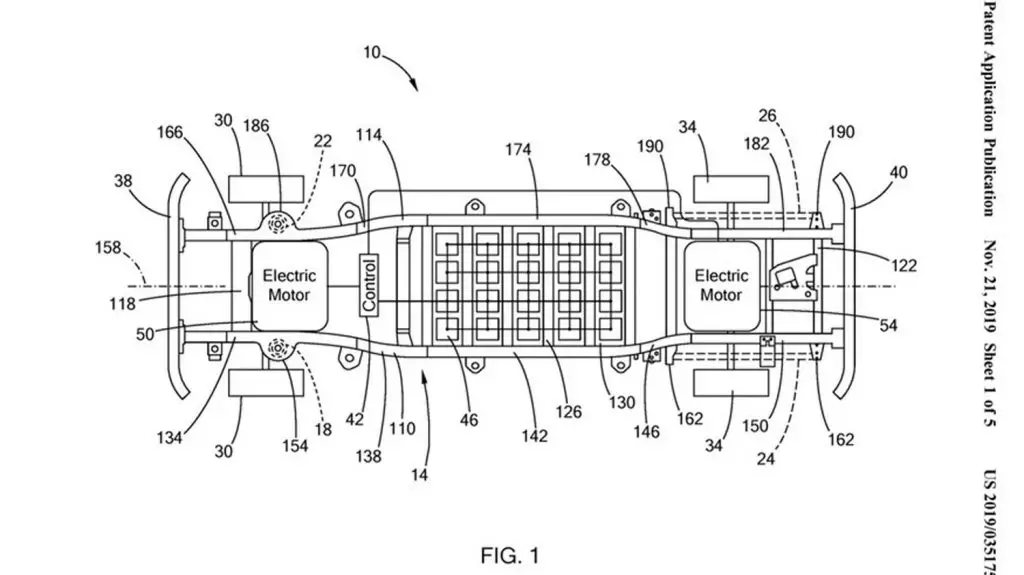 The cossmembers are mounted between the left and right frame rails and give distinct battery compartments that are also supported by a metal plate. Protecting the battery cells in an EV is a big deal as puncturing them in an accident can lead to a short circuit and fire. Another notable change in the Ford patent is that the cross-members and the battery pack help make the entire structure stronger.
Since the patent is for a body-on-frame construction, that would indicate the chassis is for large vehicles like the Ford F-150 EV and perhaps Expedition. Ford has few vehicles that are body-on-frame at this time. Ford notes that the placement of its battery packs would mean better weight distribution and less vibration while making the chassis easier to manufacture.
The chassis also allows for more crossmembers to be added depending on the length of the vehicle. That would mean longer vehicles would have a longer electric range. The patent does mention arrangements using a single electric motor, one for each axle, and an electric motor for each wheel.
Subscribe to Ford Authority for more F-150 news and around-the-clock Ford news coverage.
Source: Motortrend