Earlier this week, we talked about a YouTuber called Speed Phenom that took delivery of his personal 2020 Shelby GT500. The first video he put up gave us a look at the delivery process of the GT500 having the tidbits from the handling package added. The channel is back, and this time he takes the stock 2020 Shelby GT500 down to the dragstrip in Texas.
Last we saw a 2020 GT500 run the quarter-mile was at altitude in Las Vegas. We were keen to see what the car can do closer to sea level. The driver of the 2020 GT500 admits that he hadn't run the quarter-mile before, so he takes a passenger with him to give him tips on what to do down the quarter-mile.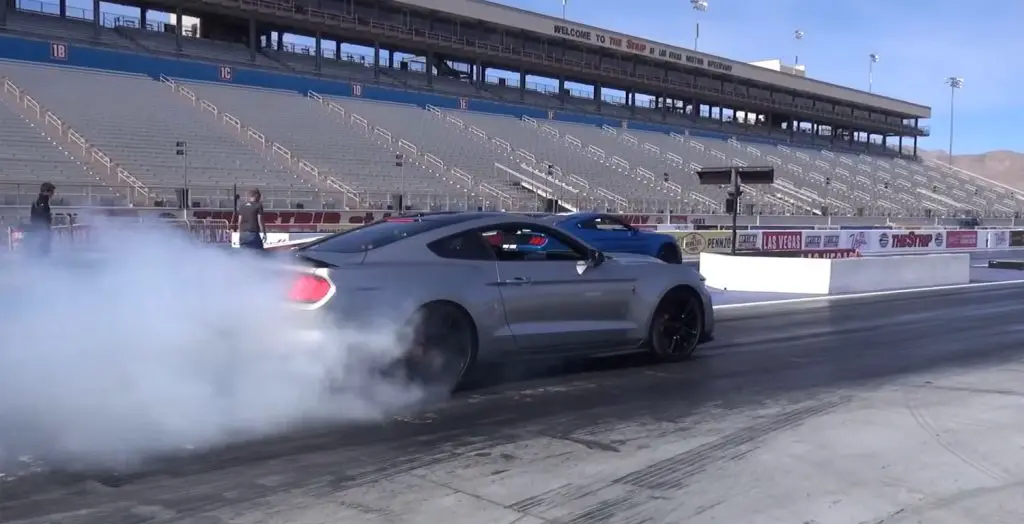 The GT500 seems to bog a bit off the line the first run, but it hooks up and moves out quickly. The result, with a passenger in the car for the first-ever pass down the quarter-mile, was 10.968 at 129 mph. The second run was with no passenger, and the car went 10.77 seconds at 131 mph.
The next run he took launch control to 3,200 rpm to see what the car would do, and the car did go a little faster. The other racers suggested a tire pressure reduction, and the car went out for another run. The result of the little tweak was a pass of 10.665 at 132.96 mph. That is very impressive for a bone stock, brand new GT500 with a driver on his first day of racing. We can't wait to see what the GT500 does on the drag strip with drag radials outback. Add drag radials and some more boost, and the GT500 will be a beast at the strip.
Subscribe to Ford Authority for more GT500 news and around-the-clock Ford news coverage.