We know that Ford performance truck fans miss the Ford F-150 Lightning pickup. Those trucks have been out of production for many years. As close as you can get to a factory Lightning pickup today is buying a 2-door Ford F-150 and bolt a supercharger on to it. Beechmont Ford will sell you a 2019 Ford F-150 XL Sport 2WD with a 5.0-liter V8, and either a Whipple supercharger or a Roush supercharger bolted on.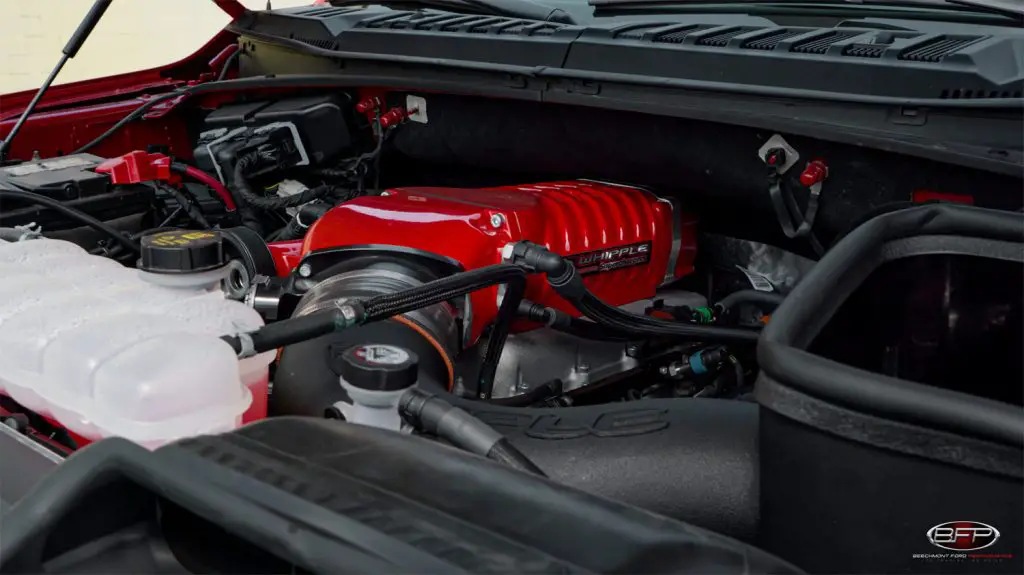 Buyers who choose the 2.9-liter gen 3 Whipple supercharger get 725 horsepower and 675 pound-feet of torque. The catch is that buyers of this package will have to pay an extra $795 if they want a warranty that would cover parts that may fail with the Whipple installed that Ford's warranty would no longer cover. That warranty covers the truck for three years and 36,000 miles. The Ford warranty would still be in effect for any non-supercharger related defects.
The Roush supercharger makes considerably less power at 640 horsepower and 600 pound-feet of torque, but its warranty is included with the supercharger and covers the vehicle for three years and 36,000 miles. Those wanting their supercharged F-150 in a 4WD truck or a 4-door truck can have the same blowers installed on different rides. The install package includes all parts, install, and tuning.
The 2019 Ford F-150 XL Sport used as the base truck has color-matched bumpers, 17-inch wheels, fog lamps, Sync Bluetooth, and other features. There is no indication of performance numbers for these trucks, but they will be fast. The supercharged 650 horsepower Roush Nightmare 2-door Ford F-150 4×4 was able to accelerate from 0-60 mph in 3.9 seconds. The four-door version was only slightly slower to 60 mph doing the deed in 4.1 seconds. Since these trucks are only 2WD models, they will likely be slower accelerating.
Subscribe to Ford Authority for more F-150 news and around-the-clock Ford news coverage.
Source: Beechmont Ford