Ford Motor Company Mexico sales decreased 33 percent to 4,955 units in December 2019 compared to December 2018 results. Sales decreased at the Ford brand, while increasing at Lincoln.
The Ford Ranger was able to post the best performance among all vehicles that the Dearborn-based automaker offers in Mexico. In fact, it was the only model that significantly increased its sales both in December and throughout the calendar year 2019.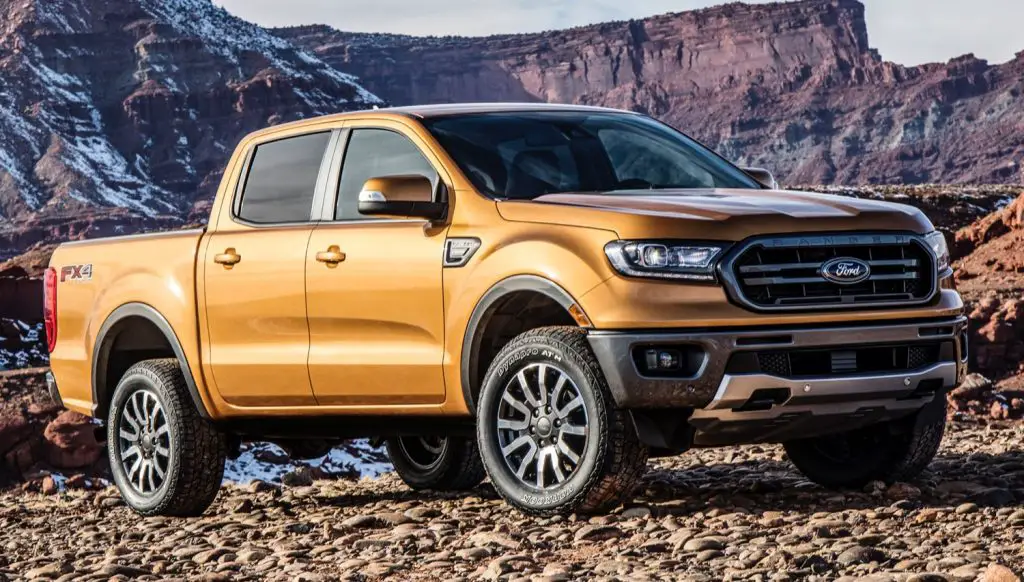 In 2019, Ford replaced the global version of the midsize pickup truck previously sold in the Mexican market by the new American-market model.
Brand & Model Sales
Ford sales decreased 34 percent to 4,758 units:
Lincoln sales increased 4 percent to 197 units:
In the complete 2019 calendar year, Ford Motor Company Mexico sales decreased 16 percent to 59,257 units.
Sales Results - December 2019 - Mexico - Ford
| MODEL | DEC 2019 / DEC 2018 | DECEMBER 2019 | DECEMBER 2018 | YTD 2019 / YTD 2018 | YTD 2019 | YTD 2018 |
| --- | --- | --- | --- | --- | --- | --- |
| ECOSPORT | -40.61% | 313 | 527 | -12.61% | 4,235 | 4,846 |
| EDGE | -51.00% | 49 | 100 | -5.35% | 850 | 898 |
| ESCAPE | -42.19% | 259 | 448 | -25.34% | 3,939 | 5,276 |
| EXPEDITION | -22.43% | 83 | 107 | -1.36% | 944 | 957 |
| EXPLORER | -72.38% | 58 | 210 | -34.37% | 1,627 | 2,479 |
| F-SERIES | -25.82% | 1,195 | 1,611 | -4.22% | 14,459 | 15,096 |
| FIESTA | -63.94% | 97 | 269 | -62.02% | 1,726 | 4,545 |
| FIGO | -55.45% | 1,180 | 2,649 | -28.18% | 15,104 | 21,031 |
| FOCUS | -100.00% | 0 | 7 | -89.99% | 82 | 819 |
| FUSION | +34.72% | 97 | 72 | -33.06% | 733 | 1,095 |
| MUSTANG | -9.09% | 120 | 132 | -29.08% | 1,363 | 1,922 |
| POLICE INTERCEPTOR SEDAN | * | 1 | 0 | -92.69% | 16 | 219 |
| RANGER | +64.23% | 1,166 | 710 | +55.05% | 9,148 | 5,900 |
| TRANSIT | -58.70% | 140 | 339 | -9.86% | 3,337 | 3,702 |
| FORD TOTAL | -33.74% | 4,758 | 7,181 | -16.31% | 57,563 | 68,785 |
Sales Results - December 2019 - Mexico - Lincoln
| MODEL | DEC 2019 / DEC 2018 | DECEMBER 2019 | DECEMBER 2018 | YTD 2019 / YTD 2018 | YTD 2019 | YTD 2018 |
| --- | --- | --- | --- | --- | --- | --- |
| AVIATOR | * | 26 | * | * | 58 | * |
| CONTINENTAL | -81.82% | 2 | 11 | -47.19% | 47 | 89 |
| MKC | +7.50% | 43 | 40 | -12.20% | 518 | 590 |
| MKX | -52.50% | 19 | 40 | -39.07% | 248 | 407 |
| MKZ | -41.67% | 14 | 24 | -33.33% | 144 | 216 |
| NAUTILUS | * | 47 | * | * | 202 | * |
| NAVIGATOR | -38.67% | 46 | 75 | -21.29% | 477 | 606 |
| LINCOLN TOTAL | +3.68% | 197 | 190 | -11.22% | 1,694 | 1,908 |
Sales Results - December 2019 - Mexico - FMC Totals
| BRAND | DEC 2019 / DEC 2018 | DECEMBER 2019 | DECEMBER 2018 | YTD 2019 / YTD 2018 | YTD 2019 | YTD 2018 |
| --- | --- | --- | --- | --- | --- | --- |
| FORD TOTAL | -33.74% | 4,758 | 7,181 | -16.31% | 57,563 | 68,785 |
| LINCOLN TOTAL | +3.68% | 197 | 190 | -11.22% | 1,694 | 1,908 |
| FMC MEXICO TOTAL | -32.78% | 4,955 | 7,371 | -16.18% | 59,257 | 70,693 |
About The Numbers
All percent change figures compared to Ford Motor Mexico sales for December 2018, except if noted
Further Reading & Sales Reporting
Running Ford Motor Company sales numbers
Ford Motor Company Q4 2019 sales reports:

U.S. Ford Motor Company Q4 2019 sales results:

U.S. Ford Q4 2019 sales results (Ford brand)
U.S. Lincoln Q4 2019 sales results

Ford Motor Company Brazil Q4 2019 sales results:
Ford Motor Company Korea Q4 2019 sales results:
Ford Motor Company Mexico Q4 2019 sales results:

Ford Motor Company Mexico October 2019 sales results:

Ford Mexico October 2019 sales results
Lincoln Mexico October 2019 sales results

Ford Motor Company Mexico November 2019 sales results:

Ford Mexico November 2019 sales results
Lincoln Mexico November 2019 sales results

Ford Motor Company Mexico December 2019 sales results: (this page)

Ford Mexico December 2019 sales results
Lincoln Mexico December 2019 sales results