The value of Ford stock decreased slightly during the January 20th, 2020 – January 24th, 2020 timeframe. Shares closed the week at $9.00 per share, which represents a decrease of $0.16 per share, or about 2 percent, compared to the prior week's closing value of $9.16.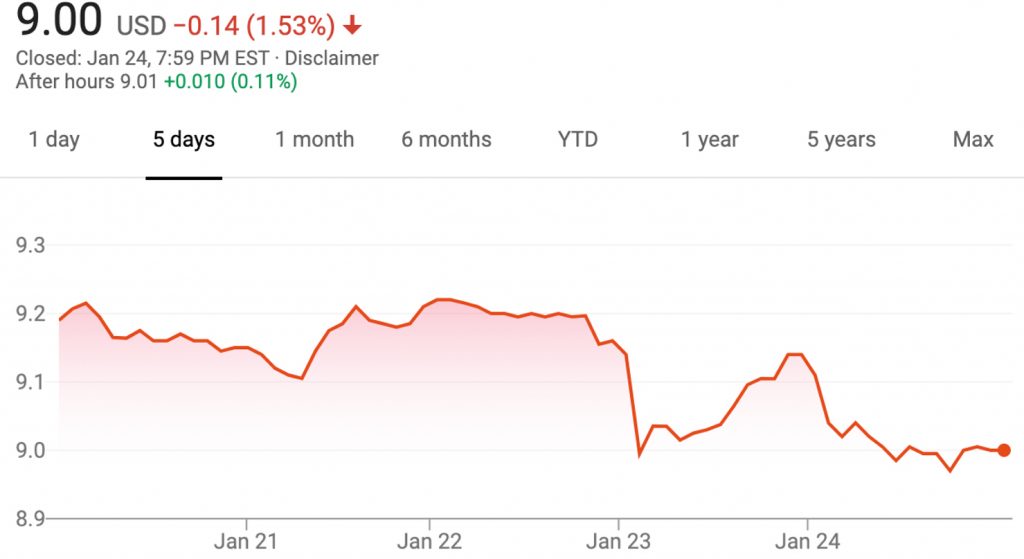 Ford shares saw the following movement during the week:
Monday, January 20th: Market closed for Martin Luther King Jr. holiday
Tuesday, January 21st: Ford stock opened at $9.15 and closed at $9.21
Wednesday, January 22nd: Ford stock opened at $9.22 and closed at $9.16
Thursday, January 23rd: Ford stock opened and closed at 9.14
Friday, January 24th: Ford stock opened at $9.11 and closed the week at $9.00, or $0.16 lower than last week
Ford Stock Values - January 20, 2020 - January 24, 2020

| Date | Open | Close | High | Low |
| --- | --- | --- | --- | --- |
| 2020/1/24 | 9.11 | 9 | 9.12 | 8.96 |
| 2020/1/23 | 9.14 | 9.14 | 9.16 | 8.93 |
| 2020/1/22 | 9.22 | 9.16 | 9.25 | 9.15 |
| 2020/1/21 | 9.15 | 9.21 | 9.22 | 9.10 |
By comparison, shares of Ford's cross-town rival – General Motors Company – decreased $1.29 per share, or 4 percent – during the January 20th, 2020 – January 24th, 2020 timeframe.
We are interested in seeing how Ford stock performs throughout 2020, especially in light of various actions taken by the Dearborn-based automaker throughout 2019 and into 2020. The company has taken steps to optimize its business by discontinuing all sedans to focus on more profitable crossovers, SUVs, and pickup trucks in North America, while at the same time investing in resource-intensive autonomous vehicle technologies like its Argo AI autonomous service as well as electric vehicles. Both initiatives have yet to result in a positive ROI for any automaker.
It's worth noting that The Blue Oval started both efforts much later than its direct rivals. For instance, FCA was the first to discontinue most of its sedan portfolio and General Motors started to invest heavily into EVs and autonomous vehicles much earlier than The Blue Oval. In July 2019, Ford announced details of its partnership with Volkswagen that would result in VW investing in Ford's Argo AI venture.
In November 2019, The Blue Oval debuted the new Ford Mustang Mach-E – an electric, four-door crossover inspired by the legendary Mustang. Set to go on sale in about a year, the vehicle represents the direction in which Ford is going as a company and where it's taking its vehicle lineup. It also shows that Ford isn't afraid to upend legendary nameplates. Initially, Ford stock didn't see any movement in value following the announcement. However, the automaker sold out the introductory Mustang Mach-E First Edition variant. The feat is promising, if it's any indication of future Ford share values.
Subscribe to Ford Authority for ongoing Ford stock news and complete Ford news coverage.