Most truck guys and gals have probably seen pictures of the Hennessy VelociRaptor 6×6 and thought you might like to own one if you hit the lottery. If your lucky numbers have come in, there is a Hennessey VelociRaptor 6×6 on eBay directly from Hennessey that can be yours for $369,995. That is ALOT of money for a pickup.
The big claim to fame for the Hennessey VelociRaptor 6×6 is the extra axle and wheels outback. Like all Raptors, this Ford F-150 Raptor has a 3.5-liter high-output turbo V6 engine. The asking price for the truck includes the base 2017 through 2019 Raptor 4-door truck, the 6×6 locking rear axles, upgraded Fox suspension, upgraded 20-inch wheels, and off-road tires.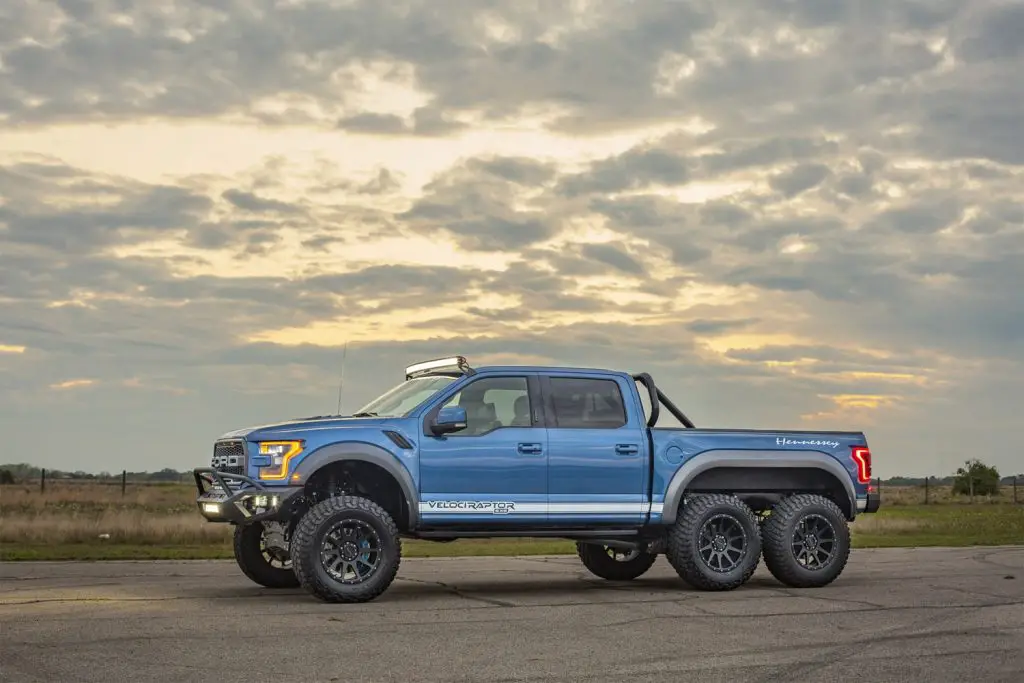 VelociRaptor trucks also get special front and rear bumpers, rollbar, and LED lighting. The truck has the VelociRaptor 600 twin turbo upgrade for 600+ horsepower. Upgrades to get that much power out of the truck include an upgraded front-mounted air-to-air intercooler and plumbing and a retuned factory computer. Optional upgrades for the VelociRaptor includes Brembo front and rear brake upgrade, larger wheel and tires, LED lighting, bespoke interiors, electronics upgrades, and armoring systems.
We don't think the truck in the images is the one you are buying. It appears by the description that Hennessey is going to build you a truck on your choice of Raptor. These trucks are awesome monsters. We wonder how badly the second rear axle will hurt the performance of the truck if used in an actual off-road setting. All that extra weight will certainly offset some of the extra power the truck offers. Watch the build process for a VelociRaptor here.
Subscribe to Ford Authority for more F-150 news and around-the-clock Ford news coverage.
Source: eBay