We love to see people who buy fast cars and drive them. We also love to see someone with a high-end car who takes the beast to the race track with a paper plate still on the back. Case in point is this silver 2020 Shelby GT500 wearing its paper tag, and modifications to make about 940 horsepower at the wheels. It went into the 9s at the drag strip on some of its first runs.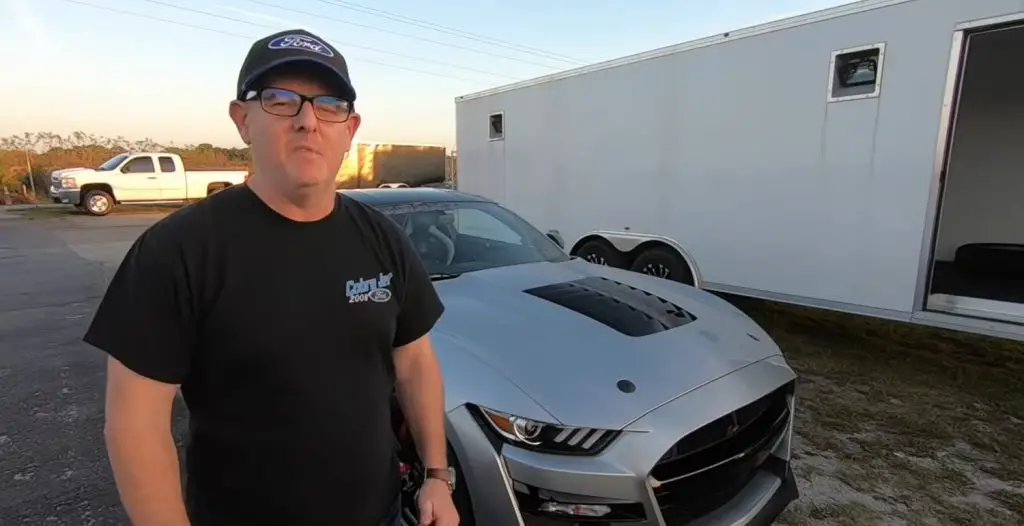 The list of modifications to the car includes more than just power. The mod list includes a Kong Performance ported factory supercharger, Lethal Performance ZPE Griptec 2.650 pulley, Injector Dynamics ID1300x injectors, and JMS FuelMax V2 dual-fuel pump voltage booster.
The 2020 GT500 is also using Kooks 1 7/8-inch long tube headers with off-road X-pipe. It also has BMR Suspension diff bushing lockouts, a Level 2 cradle, and IRS Subframe support brace, Mickey Thompson SS 20-inch drag radials, and it runs on VP Racing C85 fuel with a Lund tune.
The result of all that power was the first 2020 Shelby GT500 into the 9s with a run of 9.93 seconds at 140 mph. That is impressively fast for a car in full street trim. The video shows the car lining up and doing its burn out. The first run was 10.53, with a launch at 1,200 rpm.
Some tweaks and changing the launch to 2,700 rpm saw a 10.20-second run. A new Lund tune at the track and higher 3,200 rpm launch saw the car run a 10.17 at 141 mph. Then the car went 10.03 at 139 mph. On the last run of the night, the car went the 9.93 the team was looking for. That is fast. We've seen a stock GT500 run 10s with a passenger in the car.
Subscribe to Ford Authority for more GT500 news and around-the-clock Ford news coverage.