When it comes time to buy a new truck for many buyers who are partial to the Ford F-150, the debate comes down to which engine do you get. Do you get the EcoBoost V6 with its modern twin-turbo power, or do you get the venerable Coyote 5.0-liter V8? To settle this debate, the gang over at American Trucks got two virtually identical Ford F-150 pickups and put them on the dyno and took them to the dragstrip in both stock and tuned flavors.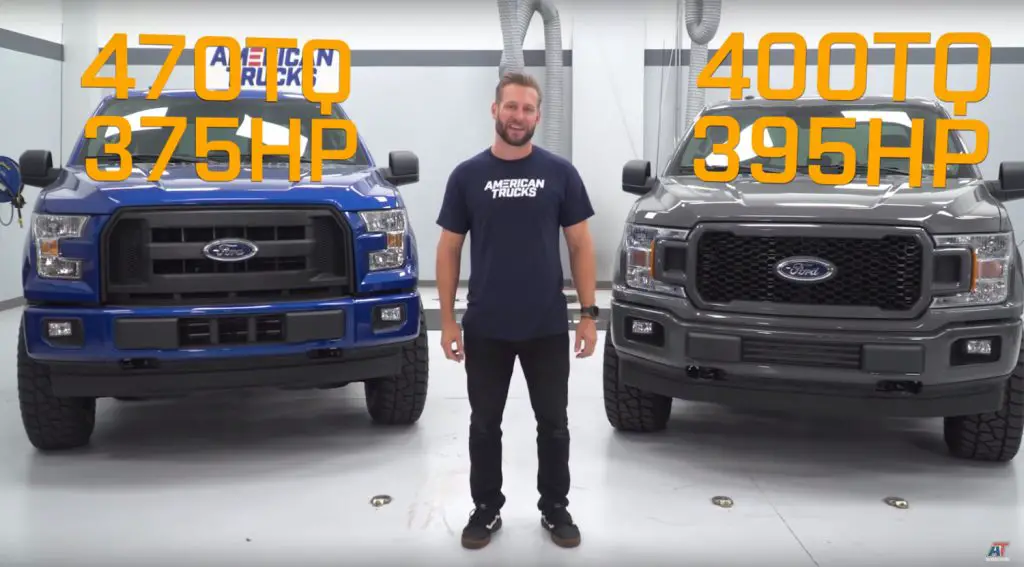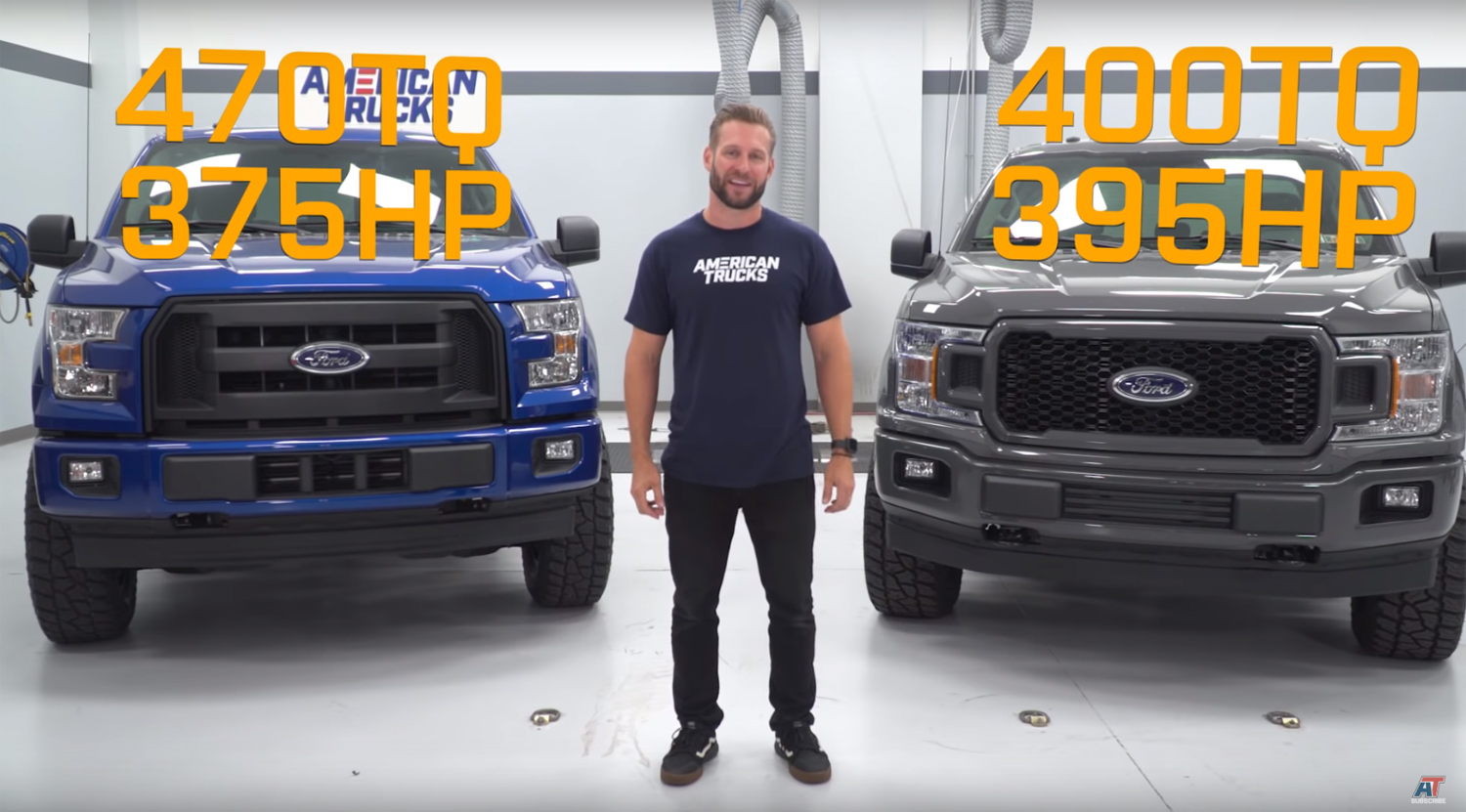 Both of the trucks feature the Ford 10R80 10-speed automatic transmission, 33-inch tires, and 3.55 gears. The Lightning Blue 2017 EcoBoost F-150 has the 3.5-liter turbo V6 engine. The Lead Foot Gray Coyote F-150 has the latest version of the 5.0-liter V8 engine.
After the stock dyno runs and quarter-mile times are recorded, both trucks received their respective 93 octane Bama tunes using an SCT SF4/X4 Power Flash tuner. The tune was the only modification done to either of the pickups. The dyno runs were done in 5th gear due to the factory speed limiters of the trucks.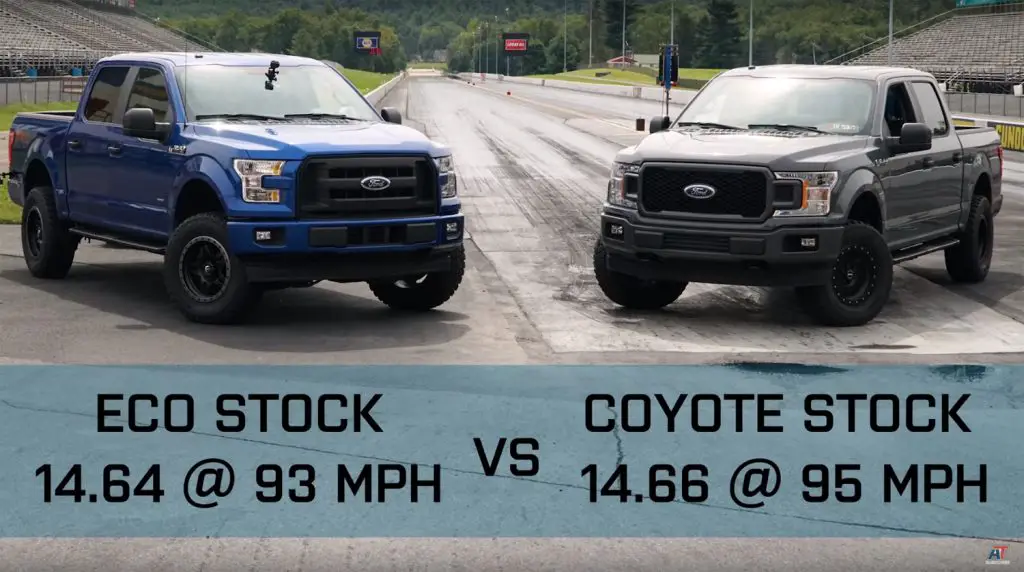 The EcoBoost dyno run showed stock power at the wheels of 321 horsepower and 370 pound-feet of torque. After the tune, the truck put 373 horsepower and 403 pounds-feet of torque to the tires. The Coyote F-150 was next on the dyno. Stock numbers were 353 horsepower and 341 pound-feet of torque to the wheels. On the tune, the 5.0-liter V8 made 366 horsepower and 355 pound-feet of torque at the wheels.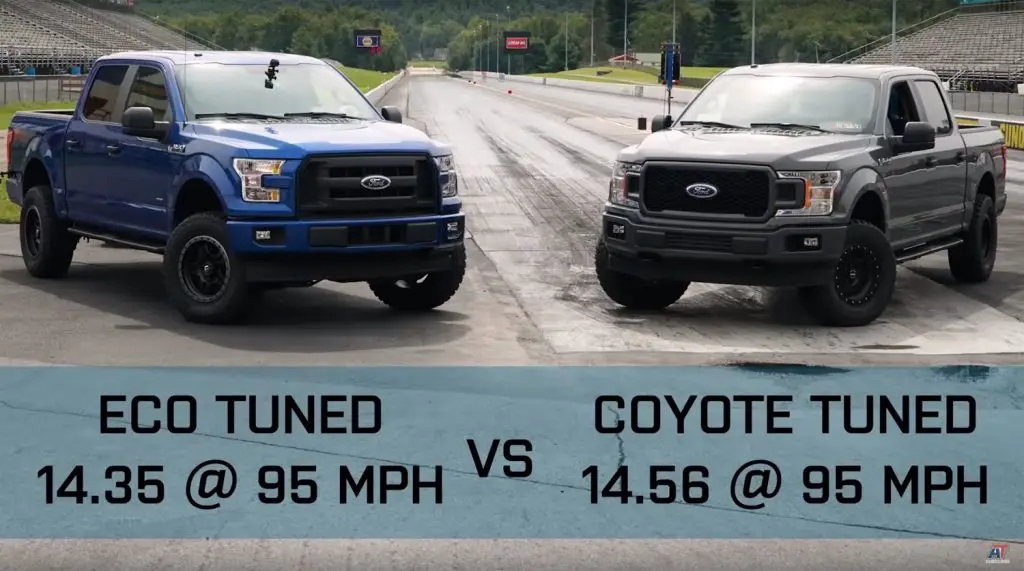 Down at the dragstrip, the trucks were virtually dead even with the stock EcoBoost F-150 putting down a 14.64 at 93 mph run while the stock Coyote put down a 14.66 run at 95 mph. With the tunes installed, the EcoBoost made a 14.35 at 95 mph run while the Coyote ran a 14.56 at 95 mph. It looks like the EcoBoost is the dragstrip and dyno champion if all you want to do is a tune.
Subscribe to Ford Authority for more F-150 news and around-the-clock Ford news coverage.