The first race of the 2020 NASCAR season happens this weekend with the official running of the Daytona 500. Busch Light is sponsoring a contest during the race in conjunction with its premier driver, Kevin Harvick, and his #4 Busch Light Ford Mustang. The contest is called #Pit4Busch and is being hailed as the "fastest sweepstakes in NASCAR history" and will give fans across the United States a chance to win a brand-new Ford Mustang.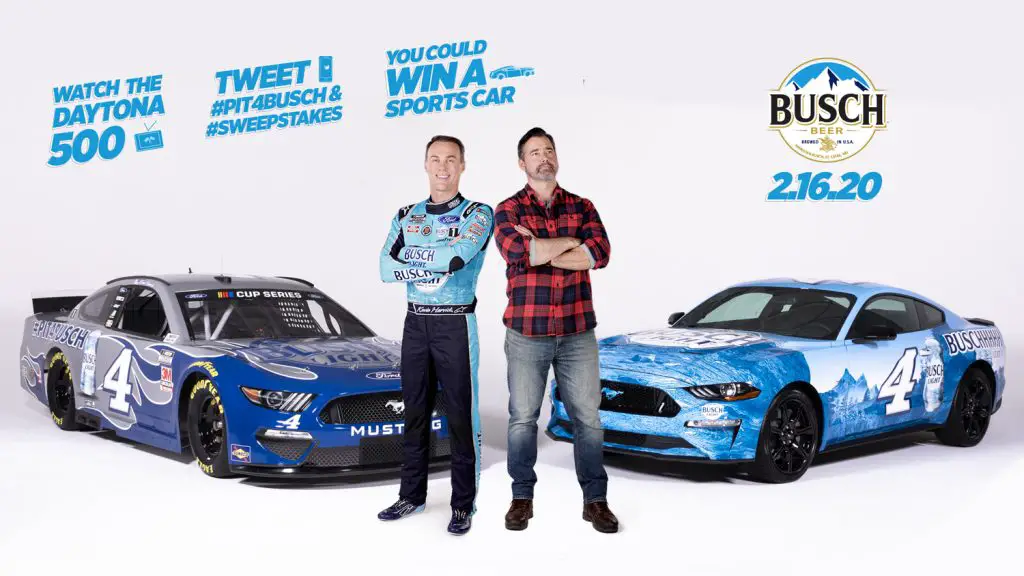 Participation in the contest is simple, but fans will need to act fast and follow the #4 Ford Mustang closely. Each time Harvick pits during the race, fans will have between 12 and 16 seconds (however long the pitstop takes) to tweet #Pit4Busch and #Sweepstakes for chance to win the brand-new Ford Mustang. The Mustangs fans will win are fully wrapped with the classic Busch Light #4 paint scheme, and each pitstop will serve as its own sweepstakes giving fans multiple chances to win.
Fans will be able to register to win a car from lap one to lap 200. It's not clear exactly how many Ford Mustangs will be given away in the contest. The contest is giving away one Ford Mustang every time Harvick pits. Fans may be hoping Harvick has a very pitstop heavy race this Sunday. As part of the contest, the official FOX broadcast of the Daytona 500 will spotlight the #4 car each time Harvick heads to Pit Lane, reminding fans to tweet.
Harvick's car will be wearing a livery for the race that is special just for the #Pit4Busch contest. NASCAR fans who want to chance to win one of these cars and don't have a Twitter account will want to set one up before the race begins. The contest begins at 2:30 PM EST on February 16th. We mentioned earlier this week that Chase Briscoe would have Ford Performance Racing School as a sponsor for his NASCAR Mustang.
Subscribe to Ford Authority for more Mustang news and around-the-clock Ford news coverage.