The mayor of an Ohio town called Sheffield Village says that Ford says that the Ohio Assembly Plant will hire 300 people more than initially stated. The original deal was to see Ford hire 1,500 new workers for the Ohio Assembly Plant. The mayor says that the Ford representative said that the number of new jobs created at the plant would be closer to 1,800.
Mayor John Hunter noted that the number Ford's representative told him is in line with what the UAW is saying. The announcement of the new jobs comes as Ford has agreed to spend $900 million on the Ohio Assembly Plant as part of the deal made with the UAW in the latest contract that was ratified by members late last year.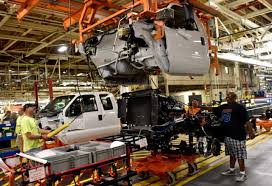 A new vehicle is going to be built at the assembly plant. Exactly what the vehicle is, Ford is keeping under wraps for now. Hunter has been in contact with Ford officials and union representatives nationally and locally. He says that no one has given any product details. Hunter says that they are not ready to release what the product line is, but they plan on "doing it in the very near future." The plant is being expanded, and it's unclear which parts of the expansion will be built in which municipalities.
Ford's assembly plant sits in three different municipalities, including Avon Lake, Sheffield Lake, and Sheffield Village, just west of Cleveland, Ohio. There is an agreement in place for the communities to share the income tax from the plant based on where the employees work. Hunter points out that it would be more beneficial for a municipality if Ford decided to build a new body shop in its boundaries rather than a paint shop as the former has more employees than the latter. Hunter is seeking a meeting with Ford and mayors of the other municipalities to get more details on the plant.
Subscribe to Ford Authority for around-the-clock Ford news coverage.
Source: The ChronicThe Chronicle