Some details on new transmission built by Getrag for Ford have surfaced, and it sounds increasingly like this is the manual transmission that will be used in the new Ford Bronco. The transmission is the Getrag 6MTI550 and is described by the manufacturer as a "highly modular and scalable" lightweight inline manual transmission. Getrag says that the transmission has best-in-class torque density and promises excellent shift quality.
The description says that the Getrag 6MTI550 transmission is for middle and high torque applications and uses a constant mesh concept. The high torque capacity is delivered at a low transmission weight, with the transmission weighing between 49 and 56 kilograms dry without a damper. It's able to handle between 600 and 800 Nm torque, which is between 442 and 590 foot-pounds of torque.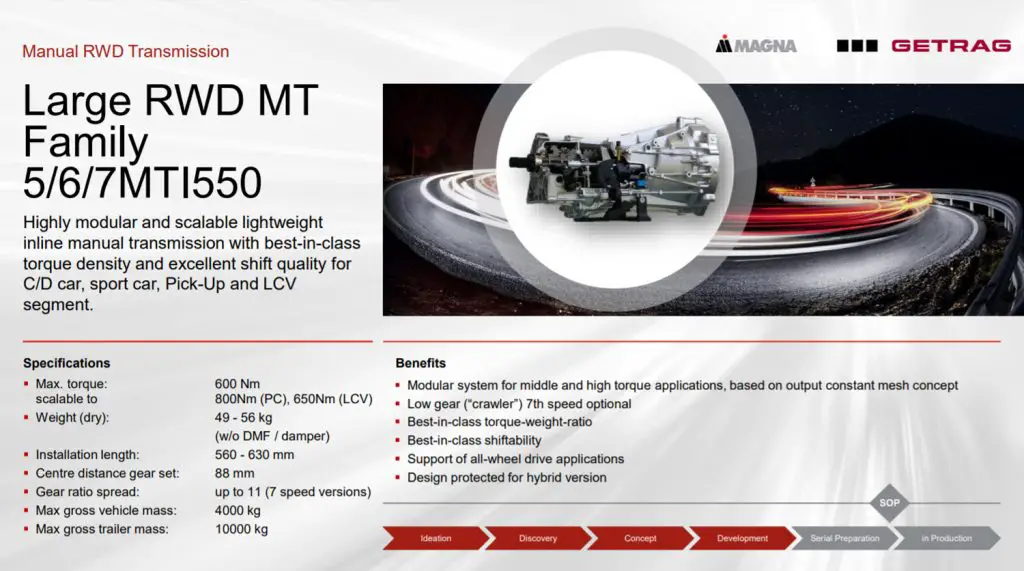 The Getrag 6MTI550 transmission will handle a maximum gross vehicle mass of 4000 kilograms and a max gross trailer mass of 10,000 kilograms. It supports all-wheel-drive applications and is design protected for a hybrid version. Some rumors have indicated that we could potentially see a hybrid version of the Ford Bronco down the road. One of the most interesting things about the transmission is that it has an optional seventh speed.
Unlike most transmissions where extra gears just mean a taller overdrive to help fuel economy, this seventh speed would be an optional "crawler" low gear. That would be perfect for off-roading in the new Bronco. Other interesting features of the transmission include a flexible range of gear ratios and ratio spread as well as being ready for a start-stop system and rev-matching. Three pedal fans should be excited at the prospect of a super-low crawler gear if the rumors are correct and this is the Bronco transmission.
Subscribe to Ford Authority for more Ford Bronco news and around-the-clock Ford news coverage.
Source: Getrag