We may be in the midst of a global crisis, as the COVID-19 pandemic continues to wreak havoc on the world, global and local economies, and on people's lifestyles, but that still isn't enough to curb risky behavior. If anything, the crisis actually seems to be perpetuating it, as seen in this recently uploaded footage that shows the driver of a Ford Mustang double-down on stupid.
The clip starts out with clearing smoke and obnoxious revs as two S550 Ford Mustangs – one black that appears to be a 5.0 GT, one white (also a 5.0 GT model) – plus a red Dodge Challenger sit at a red light. About 10 seconds into the video, the cheerleading recorder gleefully says, "go again, go again!" It doesn't take much to put two and two together here.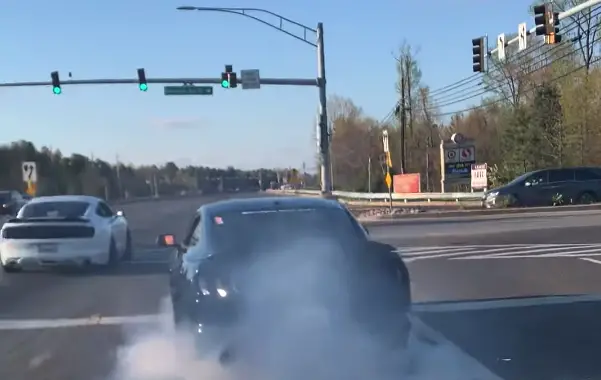 The light turns green, and the Challenger and white Mustang bolt off the line – the line that's meant to protect pedestrians and bicyclists, mind you. After putting on a little smoke show, the driver of the black Ford Mustang sent them bald eagles soarin'… straight into a guard rail.
It's a pitiful site to see, and we almost feel bad for the driver, who seemingly succumbed to his (or her) hubris. Unfortunately, this doesn't do any favors for the already-stigmatized Mustang driver stereotype.
We encourage folks to show this footage to all the young (and older, "free-footed") drivers to gently remind them that there are consequences for doing dumb things. And if you're an onlooker, perhaps it's best to not rub the belly of the beast, so to speak, and provoke such behavior.
For those who care, it looks like the Dodge Challenger seems to have won the "race". (Disclaimer: this is a joke.)
Be sure to subscribe to Ford Authority for more Ford videos, the latest Ford Mustang news, and around-the-clock Ford news coverage.