Ford plants around the world have been shut down since late March to protect workers from exposure to COVID-19, but the automaker has recently hinted that it was moving toward reopening them in the coming weeks. Now, that process appears to be in its infant stages, as the Dearborn-based company has confirmed to the Detroit Free Press that it plans to recall a small group of employees to begin preparing shuttered Ford plants for reopening.
"We are asking a small number of hourly and salaried workers to return to work this week in preparation for a restart at a future date, which has not yet been determined. These workers will begin putting safety protocols in place that we will use when we do reopen our facilities," said Kelli Felker, Ford global manufacturing and communications manager.
According to Ford, these callbacks are being done on a voluntary basis. Ford did not say which plants those workers will report to, nor how many employees these teams would consist of. However, the production of vehicles like the Ford F-150 requires hundreds and even thousands of employees. This fact has at least one unnamed UAW worker who paints F-150s at the Dearborn Truck Plant worried about returning to work too soon.
"A big point of concern is the nature of the coronavirus, and its propensity to be highly contagious for up to two weeks before any symptoms show. Many people in a production facility could become infected by this virus before the first person began to show symptoms," the worker explained to the Detroit Free Press. "There are several specific areas of concern; the close proximity of workers, which preclude any possibility of 'social distancing,' the use of shared tools, common gathering areas used for lunch and or breaks, long shifts which equate to longer terms of exposure, and the sheer number of people within the plants, especially Final Assembly."
To prevent the spread of COVID-19 when workers do return to the plants, Ford has implemented a series of new safety protocols. Before workers enter the plant, they will have to do a daily health and wellness self-certification to make sure they're not experiencing any COVID-19 symptoms and they have not been directly exposed to someone who is known to have the illness.
Workers will then go through a no-contact temperature screening, with the way this is implemented varying for each Ford plant. In the facilities that are currently making medical protection equipment now, workers go through a "thermal scanner," like a camera that takes a thermal picture. If an employee is too warm, they will not be allowed to enter the workplace. If someone is turned away from work, they will be required to see their personal care physician to be cleared to return.
Furthermore, everybody will be required to wear a face mask, which will be provided by Ford in the plants. If a job does not allow for social distancing, the worker will be required to wear a face shield or safety goggles in addition to the face mask.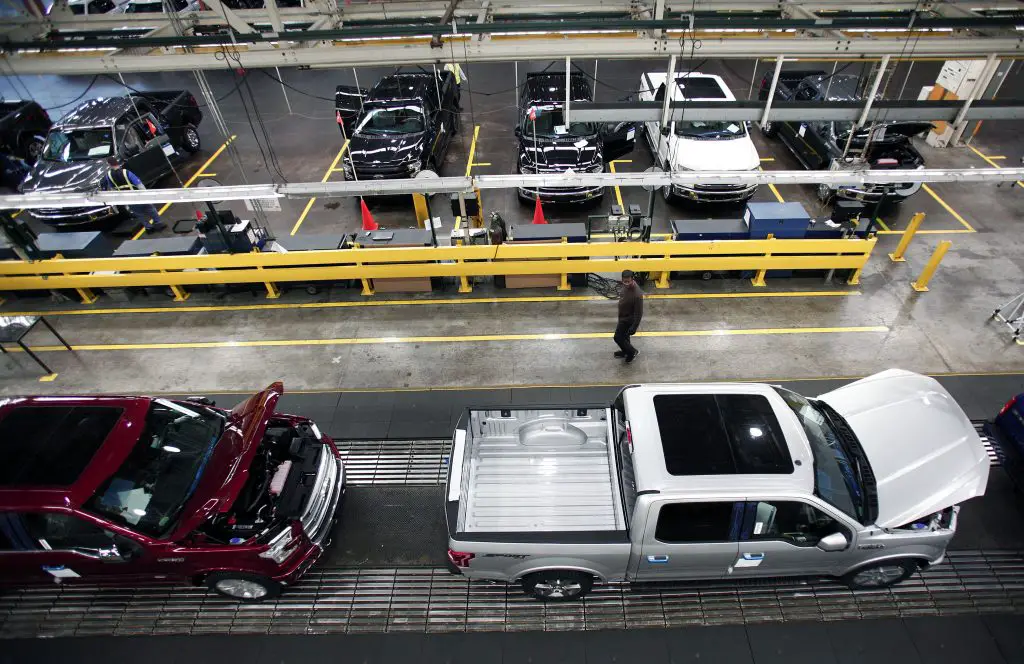 This process was scheduled to begin on April 27th , but according to Blackburn News, the Ford Windsor plant nixed that plan at the last minute. Around 200 employees were expected to return to work to prepare for reopening. However, Unifor Local 200 President John D'Agnolo told Blackburn News that he received a call from Ford on Friday indicating that the process of preparing the line to be up and running again was going to be delayed.
As of now, there's no indication when, exactly, any or all Ford plants will be operational again, though the automaker previously hoped that it would take place in early May. And with a virus as tricky and persistent as COVID-19, this doesn't figure to be an easy decision for anyone to make.
Be sure to subscribe to Ford Authority for the latest Ford-related COVID-19 news and ongoing Ford news coverage.