A Ford dealership called Koons Silver Spring Ford from Silver Spring, Maryland is offering a unique sales promotion during the coronavirus outbreak. The Ford dealership, which also sells Lincoln vehicles, says that it will pay the mortgage, rent, or lease up to $1500 per month for anyone who buys a new vehicle. There are some caveats to the deal. Buyers have to provide proof of rental, lease, or mortgage agreement at the time the vehicle is delivered.
The payment will be made directly to the buyer who must be on the rent, lease or mortgage agreement after the deal is delivered and fully funded. The dealership is limiting the deal to one buyer per household, and the offer ends on April 30, 2020. It's unclear exactly how long it would take the deal to be fully funded, but depending on when a buyer makes a purchase, it could be funded after their rent or lease payment is due for the month.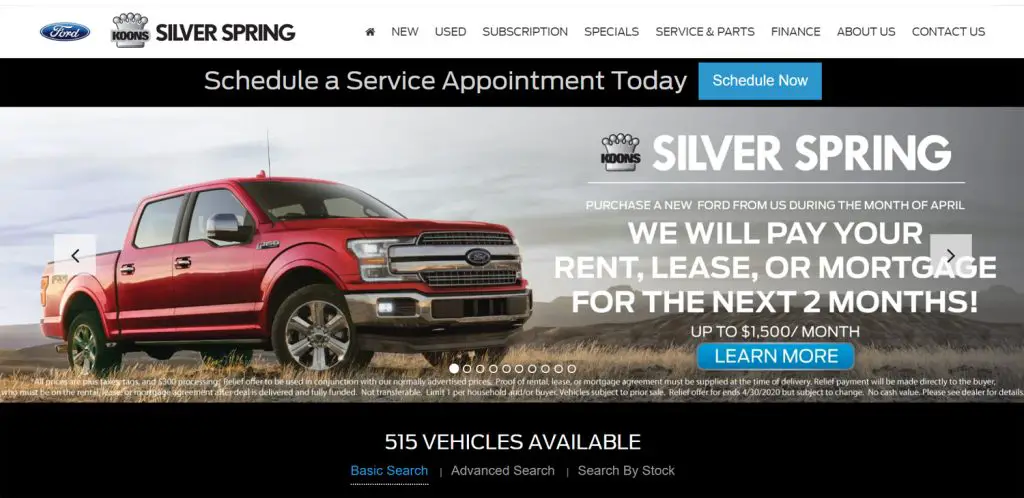 Presumably, if your monthly house payment is $2000 a month, while they won't pay the full $4000 toward your mortgage, rent, or lease, buyers would give you the $3000 maximum allowable. Particulars on this deal are unavailable on the dealer website. However, the dealership did post a video to its Facebook page that says the special mortgage, rent, or lease payment offer is in addition to its already advertised Total Confidence Pricing.
Koons Silver Spring Ford notes that its offer is in addition to any Ford special financing offers. However, there is no mention of any Ford rebates. We're wondering if the dealership is passing on some of the Ford rebates directly to the buyer. The dealership is offering to deliver vehicles and allow buyers to complete "virtually" the entire process from their home.
Subscribe to Ford Authority for around-the-clock Ford news coverage.
Source: Koons Silver Springs Ford